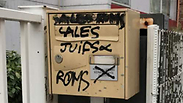 Anti-Semitic graffiti on Jewish school's mailbox
Anti-Semitic and racist graffiti were discovered Sunday afternoon outside a Jewish school in France. Police have launched an investigation into the incident.

The writings "Juden verboten" (Jews forbidden) and "Sales juifs et Roms" (Filthy Jewish and Romani people), alongside Stars of David and swastikas, were spray-painted on the gate and mailbox of the Anne Frank school in Montreuil, an eastern suburb of Paris in the Seine-Saint-Denis region.

The Montreui police commissioner visited the school while evidence was being collected. According to local reports, there were no security cameras in the area to document the incident.

"Such comments should not exist in Montreuil, which is a quiet and peaceful town," Deputy Mayor Gaylord de Chequer told AFP. "We have always favored a dialogue over violence." Mayor Patrice Bessac firmly condemned the incident.

The mayor added that the inscriptions would be removed first thing Monday morning, and that the Montreui Municipality had filed a complaint with the police to show its determination to prevent similar acts in the future.

"Those who allow themselves to cross the red line must know that they will be exposed to severe punishment," Bessac said. There was no school on Sunday due to the Christmas vacation.

Juliette Timsit, the former principal, said she was shocked by the graffiti outside the school. When one of her neighbors told her about it, she grabbed a camera, documented the writings and posted the pictures on Facebook.

"This is the school that was targeted, particularly because of its name, Anne Frank," she wrote, telling the story of the Dutch Jewish girl who died in the Holocaust. "I was very proud to be a principal in this school. I love it," she said excitedly. "I am deeply affected by this and can barely hold back the tears."

Additional graffiti were discovered later on other walls of the Jewish school. The police collected testimonies and evidence before the inscriptions were removed by the authorities.