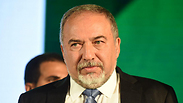 Defense Minister Lieberman
Photo: Yair Sagi
Defense Minister Avigdor Lieberman on Monday slammed France's peace summit scheduled for next month, calling it "a modern day Dreyfus trial."

"There's only one difference," he asserted, "this time, instead of the defendant being one Jew, it will be the entire nation of Israel and the State of Israel."

He criticized the timing of the summit, which was scheduled for December but postpone to January 15—five days before US President Barack Obama leaves office. Outgoing American Secretary of State John Kerry is expected to attend the summit.

"With France going to elections soon, this is not time for a peace summit, it's a tribunal against the State of Israel," he said at the beginning of the Yisrael Beytenu party meeting. "This summit's entire purpose is to undermine the State of Israel's security and tarnish its good name."

Lieberman also pointed to France's recent votes against Israel at international organizations recently, saying "it adds to the difficult climate that exists in France anyway against Jews."

Mentioning the recent terror attacks in France, Lieberman wondered, "Perhaps it's time to tell the Jews of France—this isn't your country, this isn't your land. Leave France and come to Israel. That's the only response to this plot (the summit) ... if you want to remain Jews and keep your children and grandchildren Jewish, leave France and make aliyah to Israel."

Israel has repeatedly expressed objection to the peace conference, saying only direct negotiations between the sides can lead to an accord between the two sides.

The Palestinian Authority prefers the French initiative to those of Egypt or Russia as it supports Abbas's strategy to bring the conflict to the international level on the assertion that only international pressure could cause Israel to change its policies.

In early June, the French held an initial conference in Paris without the presence of the two warring sides in an effort to prepare the ground for the planned summit. The conference was attended by foreign ministers from the European Union, along with officials from the UN and from Arab States.

During that conference, Saudi Arabia called for the adoption of the Arab peace initiative from 2002, which would lead to the normalization of ties between Israel and Arab nations.