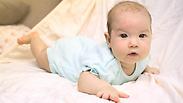 Archive photo
Photo: Shutterstock
Mohammad was the most common name given to boys in Israel while Noa was the most popular for girls in 2015, according to statistics published Monday afternoon by the Central Bureau of Statistics (CBS).

According to the information, in 2015, 2,730 muslim boys were named after the Islamic prophet. The second most common name was Yosef with 1,880 boys being named after the biblical interpreter of dreams.

Trailing in third place was Ariel, a name given to 1,792 children—1,253 of whom were Jewish boys—and the rest given to girls.

Among Jewish girls, the most common name was Noa, with 1,445 girls being given the name, meaning that it has been the most commonly given name to Jewish girls for 16 years.

Effectively, the CBS says that more than 40,000 girls born in Israel between 1948 and 2015 have been called Noa, falling only behind the names Rachel, Esther, Michal and Sara.

Tamar was the second most popular name for girls in 2015 (1,323), followed by Maya (1,144), Abigail (1,141), Talia (1,081), Adele (1,074) Shira (1,058) Ayela (1,038), Yael (1,022) and Sara (972).

The most common name among Jews is Noam, with 1,414 named as such in 2015. The next on the list were David, Uri/Ori, Ariel, Eitan, Yosef, Itay, Yonatan, Daniel and Moshe roughly continuing trends in 2014.

Notably, 2015 marked a stark increase in the number of boys called Dror, Yagel and Elroy when compared to previous years.

The statistics also show the most common unisex names. Thirty percent of all children named Ariel for example were girls. Twenty percent of babies called Noam, Uri/Ori and Daniel were also girls.

On the other hand, the unisex names Yuval, Maayan, Yaheli, Adi, Hadar and Shaked were overwhelmingly given to girls. The names Hillel, Ofir, Shahar and Shai were given in equal number to both genders.

A pattern in which names are more common in different cities can also be discerned from the data. Noa, for example, is more commonly found in the cities of Be'er Sheva, Modi'in, Netanya, Petah Tikva and the remaining big cities, with the exception of Jerusalem and Bnei Brak, featuring among the six most common names.

Despite the fact that Noa has been the most common name in Israel for the past 16 years, there are also many cities throughout the country in which the most common name is different.

In Jerusalem and Bnei Brak for instance, Noa does not even rank on the top ten most common names. Indeed, in those two cities, the most frequently heard name is Sara. Adele is the most common in Ashdod, Ashkelon, Bat Yam while Maya is so in Holon, Haifa, Tel Aviv-Jaffa, Rishon LeZion and Ramat Gan. In general the comparatives patterns according to city for 2015 mirror those of the preceding year.

Among boys, Noa was the most popular name in the cities of Be'er Sheva, Ramat Gan, Rehovot, Ashkelon, Bat Yam, Holon while the name Uri or Ori was most popular in Tel Aviv-Jaffa, Ramat Gan, Modi'in.

Itay was most commonly found in Rishon LeZion and Petah Tikva. Yosef was most common in Jerusalem, Bnei Brak while Itay ranked highest in Haifa, Netanya, Herzliya. Moshe was counted the most in Ashdod.

One in five Muslims are called Mohammad or Ahmed (15% and 4.6% respectively). Despite the high number of people with these names however, a decrease has been registered in the data since the turn of the century.

The most common names among Muslim babies is Yusuf (3.5%), Omer (3.1%), Adam (3%), Jod (2.7%), Abed (2.6%), Ali (2.3%), Amir (1.9%), Ibrahim (1.9%), Mahmoud (1.8%), Khaled (1.3%).

Among Muslim girls, the most common names are Maryam (2.7%), Sha'im (2.3%), Janah (2.1%), Lian (2%), Layan (1.8%), Alin (1.5%) and Sa'ara (1.4%).