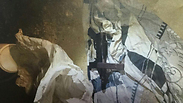 Arms the cell planned to use
Israeli security forces have stopped a terror cell made up of Israeli Arabs who were planning to carry out attacks against soldiers in the Negev, it was cleared for publication on Tuesday.

Two of the cell's members – Mohammad Masri, 37 of Be'er Sheva, and Abdullah abu Iyash, 26, from Kuseife, were arrested by the Shin Bet last month.

A joint Shin Bet and Israel Police investigation revealed that Masri, the leader of the cell, was seeking to take revenge on the government for outlawing the northern branch of the Islamic Movement in Israel.

Masri then went to abu Iyash, with whom he worked, for assistance, with the latter agreeing to help. The two worked together at a grocery store in Be'er Sheva called "King Store Mashadawi," where Masri was the assistant manager.

The two decided to attack IDF troops and planned to target three possible places in the southern region of the country–in Dimona, Arad, or at the gates of the Netavim Air Base. The two also conducted observations of their targets.

A Carl Gustav homemade assault rifle was found in the cell's possession, along with IED detonators. The authorities believe that the cell would have carried out IED attacks using the detonators.

Mohammad Masri is known to the Shin Bet. He was a member of the Fatah military wing, the al-Aqsa Martyrs' Brigade and was involved in a pipe bomb explosion that killed a 15-year-old girl. He was arrested and served a 12-year prison sentence.

While in prison, Masri met and cultivated connections with Hamas members both from Gaza and in the West Bank, including the high ranking Hamas official Yahya Sinwar.

Upon his release, he became an active member of the northern branch of the Islamic Movement in Israel.

A third Israeli-Arab was arrested for involvement in the cell, but this time from the Arab city of Qalansuwa. He too worked at a King Store branch in Qalansuwa, where he was an assistant manager.

He too was an active member of the northern branch of the Islamic Movement and served time in prison between 2006 to 2010 for serious security offences, including the sale of weapons to terrorists from Tulkarm and for planning to attack IDF troops with an IED.

Three additional Israeli Arabs from the Negev area were arrested on suspicion of selling weapons to the terror cell: Bakr Abu Takfa, 21, from Shaqib al-Salam; Rami Abu Takfa, 22, from Shaqib al-Salam; and Mohammad Abu Qif, 26, a Bedouin living in the Nevatim area.

The investigation of the case found that other Negev residents were involved in arms trade under criminal circumstances, and more arrests are expected as the investigation continues.

Marsi and Abu Iyash will be indicted in the coming days.