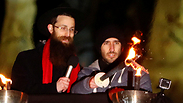 Or Elyakim lighting the Berlion menorah
Photo: Reuters
Son of Israeli killed in market attack lights Berlin menorah
Or Elyakim, whose mother Dalia was killed in last week's vehicular attack in Berlin, lights the fourth candle of Hanukkah on a large menorah at the city's Brandenburg Gate; Rabbi Yehuda Teichtal of the Jewish Community of Berlin says the city's ceremonial menorah lighting is a way 'to bring light over darkness.'
Or Elyakim, whose mother Dalia was killed in last week's vehicular attack on a Berlin Christmas market, lighted the fourth candle of Hanukkah on a 10-meter (33-foot) menorah at the city's Brandenburg Gate on Tuesday evening.

Dalia was one of 12 people killed when a hijacked truck officials said was driven by Tunisian Anis Amri plowed into the market Dec. 19. Elyakim's father, Rami, was seriously injured.

Or Elyakim lights the Berlin Hanukkah

More than 1,500 people came to the Hanukkah lighting in front of Berlin's Brandenburg Gate. Rabbi Yehuda Teichtal of the Jewish Community of Berlin said the city's ceremonial menorah lighting in the presence of Christian, Jewish and Muslim representatives was a way "to bring light over darkness."

Teichtal continued to say that "The attack we suffered last week was a despicable act aimed at all three religions: it was aimed at the democratic world and against values such as peace and tolerance."

He went on to say that "The attack was meant to eternalize the darkness. But today we celebrate Hanukkah, whose very essence is in opposition to that, since Hanukkah's message is the triumph of light and the spirit over darkness. We Jews have known suffering: we were persecuted by the Greeks, we were persecuted exactly 75 years ago right here in Germany, but now we stand strong and declare that light will always triumph over darkness. Our answer to acts of terrorism and evil is the unity and solidarity that we see here today."

Berlin's annual Hanukkah candle lighting traditionally takes place in front of Brandenburg Gate, during which one of the largest menorahs is lighted. This year, the event's security was amped up due to last week's vehicular attack.