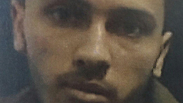 Bilal Razineh
Photo: Shin Bet Spokesperson's Unit
Shin Bet arrests Hamas 'tunnels official' after crossed border into Israel
Bilal Razineh, a member of the Izz ad-Din al-Qassam Brigades for the past 10 years, arrested last month; Bilal, brother of the head of Hamas's internal security apparatus in the North Gaza, provided interrogators with information on tunnel routes.
Bilal Razineh, a member of Hamas's military wing for the past 10 years, was arrested last month after crossing the border fence from the Gaza Strip into Israeli territory, it was cleared for publication on Wednesday.

His interrogation by the Shin Bet, together with the Israel Police, revealed a great amount of information about the activity of the 24-year-old terrorist's, as well as about the military wing's tunnel digging activity.

Bilal is the brother of Mustafa Razineh, head of Hamas's internal security apparatus in the northern Gaza Strip.

He was arrested on November 27, and his investigation revealed that he was a member of the Izz al-Din al-Qassam Brigades and was involved in extensive terrorist activity on behalf of the organization, including sniper exercises, guard duty and digging tunnels.

Most of his activity focused on the tunnel industry and accompanying his brother. He provided his interrogators with a lot of information about the tunnel routes in the northern Gaza Strip and about Hamas's tunnel digging methods. The interrogation further revealed that a tunnel had been dug on his family's property, leading to many tunnels in the area and used as a weapons warehouse.

He also provided information about different Hamas posts, about his activity as a Hamas sniper and about other members of Hamas and Islamic Jihad.

The investigation further revealed that during Operation Protective Edge, his brother and other senior Hamas members hid in the Kamal Adwan Hospital in Gaza and oversaw the fighting from there. During the war, Bilal served as a messenger, passing information from his brother to senior Hamas members. It was also revealed that Hamas's internal security commanders managed the fighting from civilian homes.

Bilal Razineh was indicted at the Be'er Sheva Regional Court on Wednesday for his alleged involvement in acts of terrorism. The indictment lists security breaches, membership in an unlawful organization and weapons offenses among his crimes.

The Shin Bet stated that "The information that has come out of his investigation regarding Hamas's use of civilian structures to advance terror activity is another example of the repeated violations of international law carried out by Hamas and other terrorist organizations in the Gaza Strip."

The Shin Bet continued to say that "The information received from the investigation, together with the information received from the investigations of additional Hamas operatives who have been arrested during the year, illustrates the great lengths that Hamas goes to to prepare for a military confrontation with Israel."