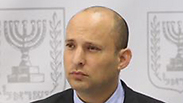 Naftali Bennett
Photo: GPO
Bennett: We'll declare sovereignty over Ma'ale Adumim
Speaking in an interview with Ynet, the Bayit Yehudi leader said that with the inauguration of President-elect Trump next month, 'Palestine will be taken off the agenda,' Israeli law will be imposed over 'Jewish areas in Judea and Samaria'; MK Oren: 'Kerry still lives in the 90s.'
Education Minister Naftali Bennett (Bayit Yehudi) failed to heed recent warnings of Prime Minister Benjamin Netanyahu to refrain from speaking about annexing land when he repeated his view on Thursday morning that "the age of a Palestinian state has come to an end."

Speaking in an interview with Ynet, Bennett said that on January 20 when President-elect Donald Trump enters the White House, "Palestine will be taken off the agenda," advocating instead that Israeli "law be imposed on areas in Judea and Samaria."

Addressing Wednesday's speech by US Secretary of State John Kerry outlining his vision for peace between Israel and the Palestinians, Bennett said: "He has good intentions, but his speech was like his policies—totally out of touch with reality."

The minister also declared that "The Israeli government will advance a program of sovereignty over Ma'ale Adumim for a start" and promised that he would advance an agenda to ensure that Israeli law also apply to "the Jordan Valley, Ariel and Ofra where there are half a million Jews and 70,000 Arabs. In the rest of the territory there will be Palestinian separate autonomy where there is around 1.2 million Arabs and not even a single Jew.

"The State of Israel is about to change. If we impose the law on Area C, on a strategic level the picture will be different." he continued.

Bennett sought to refute the notion that a two-state solution offered the greatest prospect for peace, reiterating that "The Palestinians already have a Palestinian state in Gaza. They chose to turn it into Hamastan."

MK Michael Oren (Kulanu), also speaking to Ynet, said that he agreed with Bennett's analysis of John Kerry's speech positing that he was essentially stuck in the past.

"He still lives in the 90s without seeing the shifts that have taken place in the Middle East, the Second Intifada, he doesn't see the withdrawal from Gaza as a result of which we received masses of rockets," the former Israeli Envoy to the US said.

"There are no peace proposals—such as Ehud Barak's, Ehud Olmert's—that were no rejected by the Palestinians. For eight years they have refused to sit with us. Every day we repeat ourselves saying come and talk to us without pre-conditions."

On Sunday, Netanyahu instructed ministers to refrain from making public declarations relating to annexation of territories or construction in the West Bank, warning that more international maneuvers could be made against Israel until the expiration of President Obama's tenure in office on January 20.