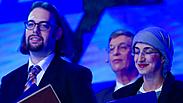 World Bible Contest Winners
Yafit Sliman from Israel and Yair Sahak from the US are the winners of the World Bible Contest for Adults for the year 2016.

Dr. Eliezer Abergil of france came in third place, while Tzvi Mordechai of Canada came in fourth.

Silman is a structural engineer from the Emek Hefer area, while Sahak is a musician from New York. In an interview with "Thushot Soarot," Sahak said "I'm really excited. It's like a dream come true."

"My wife participated in the first rounds of the contest," Sahak continued, "but she wasn't able to go to the finals. She helped me a lot when I was preparing, and we studied a lot together. The best thing about this whole story – in my opinion – is the love we both have for the Torah."

The competition as held in Israel, and the couple plan on staying and celebrating in Israel for two more weeks to celebrate and visit friends.

"Studying must be done with respect and love"

The competition took place on Wednesday night at the Jerusalem International Convention Center. Education Minister Naftali Bennett was in attendance.

Opening up the competition, Minister Bennett said "it would be such a missed opportunity if our children cease to be amazed by the Torah which was given to us, if they cease to love it, to not learn it day and night. If they cease to internalize it, and cease to be a light unto the nations."

The World Bible Contest seeks to unite Jews both in Israel and the Diaspora around the Torah, which is at the base of the Jewish identity. There were 27 people who made it to the finals from countries across the globe, including: Israel, Australia, Argentina, the UK, South Africa, and more.