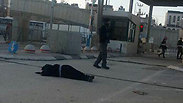 Stabbing attack at Qalandiya checkpoint foiled, terrorist shot, neutralized
A Palestinian woman was shot and neutralized on Friday after approaching Israel security forces at Qalandiya checkpoint while seeming to hold a knife; after calls to stop did not halt her approach, the terrorist was shot and neutralized.
Security forces stopped a stabbing attack on Friday at the Qalandiya checkpost near Ramallah. The incident occurred when a Palestinian woman had approached the checkpoint, with a knife in her hand, despite being repeatedly called upon to stop.

The woman was eventually shot and neutralized after security forces proceeded with the IDF rules of engagement.

Qalandiya checkpoint


Police stated that at the time, the woman was seen to be holding an object she was trying to conceal. She kept walking quickly toward security forces until she was disarmed. A knife was then found near her person.

Last Friday, a man was lightly to moderately injured after he was stabbed on the street in the West Bank settlement of Efrat. The injured man said that a terrorist has stabbed him and then escaped. The man was stabbed in his back and the back of his neck. Following the event, security forces laid siege to the nearby village of Khirbat Abdullah in search of the attacker.