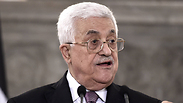 Palestinian President Mahmoud Abbas termed the recent UN Security Council's resolution as being against the settlements, not against Israel, in his first interview with an Israeli journalist since the resolution passed and US Secretary of State John Kerry's speech on resolving the Israel-Palestinian conflict.

Abbas said that Israeli settlements "don't advance peace, but rather are an obstacle to peace. A distinction must be made between Israel and the settlement project, which the world opposes and which we also oppose. We are also against the attempt of Avigdor Lieberman to divert the discussion from the settlements to Israel."

The recently reelected president was speaking to Yedioth Ahronoth, Ynet's sister publication, at a meeting with representatives of the Council for a Beautiful Israel, a public non-profit organization.

Addressing Kerry's speech, Abbas said, "We are aware that the United States will continue to be Israel's friend and not a friend of ours. Its decision on how to vote in the UN and Kerry's speech—the US is coming from the place of a true friend who wants to save Israel.

"We definitely received the UN resolution and Kerry's speech positively. If the settlements would stop, we would be ready to start talking without preconditions. Benjamin Netanyahu cannot continue saying that only he is right. You can't ignore the world's position. The entire world is burning. There is extremism and ISIS in the region. Let's promote peace so that peace can prevail in this troubled region."

Was there coordination between the Palestinians and the United States before it decided not to veto the UN resolution?

"There wasn't direct cooperation. The Americans received the draft resolution and announced their position in accordance with their policies. We've been talking with the Americans for a long time now about passing the resolution regarding ceasing the settlements."

Saeb Erekat said that if the settlement industry isn't stopped, you'll cut off contact. Is this your position?

"This is absolutely our position, and we released an announcement on this (on Wednesday). UN Resolution 2334 declares that the settlements are illegal. They also make peace impossible. Avigdor Lieberman calls to freeze economic relations with us and to continue security coordination. What does he think—that we work for him?

"His attitude is unacceptable, and if we were crazy like him, we would have cut off all contact. Nevertheless, we will continue security coordination because it's in the joint interest of the two sides. But to be clear, we don't work for Netanyahu or for Lieberman or for anybody else. We are not the army of one general. We are a people, and we will maintain our dignity."

Israel is also insisting that you declare that the State of Israel is the state of the Jewish people. Why don't you agree to that?

"In 1993, we recognized Israel, and you recognized the PLO as the representative of the Palestinian people. Why do you want more? It's not our role or our business how you define yourselves. What do you want from us?"

You've seen the tweets of US President-elect Trump. Are you afraid that he'll be harmful to you?

"We'll take care of the relations with him after he's sworn in on January 20. At this stage, a meeting hasn't been set up for me with him. We're waiting for him to go enter the White House, and then we'll discuss with him the matters at hand."

Holding his electronic cigarette, Abbas said, "We know that we have a problem with the Netanyahu government and with some of its components, but we also know that a large part of the Israeli people support peace and the two-state solution. The fact that he's the prime minister mustn't lead to stagnation. That would have catastrophic consequences.

"I call on peace-loving people on both sides to raise their voices. There's an opportunity now that we must not miss. Yitzhak Rabin was the opponent of the Palestinian people, but he decided in favor of peace. We must not allow extremists to unite against the idea of peace. I am optimistic and will remain optimistic. If I stop believing, I'll go home. I won't stay in the job if I stop believing that we can achieve peace."

What's your opinion of MK Basel Ghattas , who gave mobile phones to security prisoners?

"I don't know exactly what happened. It's between him and you."