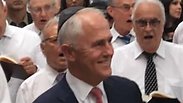 Australia stands with Israel: UNSC resolution is 'one-sided' and 'counterproductive'
Australian PM Malcolm Turnbull says peaceful resolution can only be negotiated between the parties, adding that 'it's not assisted by one-sided resolutions made at the councils of the United Nations or anywhere else'
Australia's Prime Minister Malcolm Turnbull on Friday slammed a UN Security Council resolution against Israel's settlement construction that was passed last week, saying it is "one-sided," "counterproductive" and "deeply unsettling."

Turnbull attended a Hanukkah candle-lighting ceremony at the Central Synagogue in Sydney, where he told worshipers that his government supports "a peaceful resolution of the disputes between Israel and the Palestinians." Particularly, he said, "We support a two-state solution just as the government of Israel does."

According to the Australian Jewish News website, the prime minister stressed that a two-state solution "can only be negotiated between the parties," noting that "It is not assisted by one-sided resolutions made at the councils of the United Nations or anywhere else, and that is why Australia has not, and does not, support one-sided resolutions."

Australia, he said, believes such resolutions "are not conducive to the successful conclusion of negotiations, which we urge the parties to undertake."

"These issues can only be resolved by the State of Israel and the Palestinian community," Turnbull added. "That is where the solution lies, when and where it is to be found."

Turnbull also declared that "Australia stands with Israel. We support Israel, the only democracy in the Middle East."

"Above all, we stand shoulder to shoulder with Israel in the fight against terrorists," the Australian leader added.