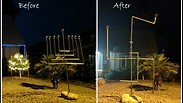 Arizona family's Hanukkah menorah display contorted into swastika
On the sixth night of Hanukkah, vandals dismantled a 7-foot-tall menorah display made of pipes and reassembled it as the Nazi symbol; 'It just makes me sad and it makes me feel sick that's still how people look at the world in 2016,' says Seth Ellis from Chandler, AZ, who constructed the menorah for his children.
A large Hanukkah menorah display outside a home in the city of Chandler, AZ was contorted into a swastika, local news station ABC15 reported on Friday.

Police were called to the family's home at around 5:30am Friday morning and helped disassemble the Nazi symbol.

According to the Washington Post, Naomi and Seth Ellis's three children wanted their home decorated for the holidays, similar to their neighbors' Christmas decorations.

Their parents decided to build a 7-foot-tall (about 2 meters) menorah on their lawn using $100 worth of PVC pipe, nine solar-powered lights and shiny gold paint.

On the sixth night of Hanukkah, however, vandals dismantled the menorah and turned it into a giant swastika.

"Just waking up to see that first thing is kind of rattling," Seth Ellis told ABC15. "It just makes me sad and it makes me feel sick that's still how people look at the world in 2016," he added.

Thankfully, the children did not see what had happened to the menorah. Naomi Ellis said it was not easy to explain to her boys—ages five, seven, and nine—what had happened.

"We talk a lot about the importance of equality and tolerance, loving everybody no matter what," she told the Washington Post. "I had to tell them that not everybody feels that way. Some people are ignorant, and this is what they do."

Naomi said she had to watch tears well up in her nine-year-old son's eyes as she told him what happened.

"This is the real reality that we live in: People hate us for no reason or want us to feel scared for who we are. That's not something I wanted to have to tell them," Naomi told the Post.

Seth and Naomi Ellis spent part of Friday afternoon rebuilding the menorah.

"You have to put it back up," Seth Ellis told ABC15 reporter Megan Thompson. "I mean, what kind of statement is it for me not to put it back up, especially for my kids?"

He said that if his second menorah is also vandalized, he is determined to keep rebuilding it: "As many times as I have to."

Upon rebuilding it, the Ellis family invited their community to attend a "lighting" ceremony of the new menorah at their home.

So far, no arrests have been made and police investigators were questioning neighbors to see if they saw anything or captured the incident on security cameras.