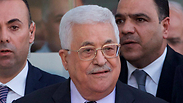 Palestinian President Abbas
Photo: Reuters
Palestinian President Mahmoud Abbas said Saturday he is willing to work with US President-elect Donald Trump to reach a two-state solution to the conflict with Israel.
"We want to emphasize our willingness to work with the newly-elected American administration... to achieve peace... based on a two-state solution" as well as the Arab peace initiative and international resolutions, Abbas said during an event marking the anniversary of his Fatah party.
Abbas thanked the US for its UN abstention vote last week, which allowed the Security Council to adopt a resolution declaring Israeli settlements in territory claimed by Palestinians illegal.
In a televised speech, Abbas demanded Israel to stop all settlement activities and to avoid making any changes to the demographic situation of "the land of the state of Palestine which has been occupied since 1967, including east Jerusalem."
The Israeli government "has been trying to overturn facts and mislead the international community while continuing to establish settlements maintaining one state solution and racial discrimination," he said.
Abbas dubbed 2017 "the year of international recognition for the State of Palestine" and said he was hopeful and looking forward to the international peace conference in Paris on January 15.
Earlier in the day, Abbas's spokesman Nabil Abu Rudeineh boasted of three significant achievements for the Palestinians at the end of 2016 and beginning of 2017: The UN Security Council resolution against the settlements, US Secretary of State John Kerry's recent speech about the conflict—which was also very critical of the settlements, and the upcoming Paris peace conference.
"There is no doubt that these achievements carried a clear message, not only to Israel, but also to the next US administration that says the entire world is unanimous in rejecting the occupation, settlements and mutiny against international decisions," he said in quotes published by the official PA news agency Wafa.
He added that he hoped "the world, which is getting tired of Israeli government policies and violation of international law while holding on to occupation, will assist our people in its just struggle that will not stop before snatching our right to freedom and national independence."
The two-state solution has been the basis for peace talks under the past several US administrations.
Trump's election platform didn't mention a Palestinian state and his choice for ambassador to Israel has strong ties to the Jewish settlement enterprise.
Ynetnews staff contributed to this story.