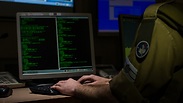 Computer Service Directorate
Archive Photo: IDF Spokesperson
IDF Chief of Staff Gadi Eisenkot authorized over the weekend the continuation of military's strengthening of its cyber operations, with the army investing billions of shekels in the coming years, according to a senior military officer.

According to the recommendations that Eisenkot approved, the Computer Service Directorate (CSD) will continue to engage in cyber defense in the coming years, and the Military Intelligence Directorate will continue to collect data and wage cyber warfare. However, it was decided to add various IDF cyber units to the CSD and to strengthen those already existing in the Manpower Directorate.

A senior IDF officer said on Sunday that, "for the first time in the multi-year Gideon project," which began last year, "the IDF will invest billions of shekels in cyber matters. We are currently writing the operating concept of the cyber affairs, establishing an entity of the General Staff to give the cyber perspective for all operational activity and the significance of cyber matters for the regional commands and for the air, land and sea forces. We are conducting war games and simulations and are learning from foreign countries on the subject. Our cooperation with other armies has principally raised two issues: terrorism and cyber affairs."

According to that officer, it was decided to take measured steps on the latter in the IDF but not yet to establish a joint cyber command that would unify all the different operations in the matters of cyber intelligence, warfare and defense, which had been considered in the past.

The officer added, "We are learning the cyber concepts that are sometimes different from military concepts. We are happy with the Cyber Defense Brigade that we've set up in the Computer Service Directorate. We'll maintain the superiority that we have in the cyber collection field, which produces dividends for the State of Israel and assists us."

It was also decided to unify between the CSD units that are responsible for developing operational software and those that are supposed to provide cyber defense.

"We want to develop better operational thinking than in the past for the IDF's offensive capabilities," the officer explained. "We are learning from the mistakes of other countries in cyber affairs and it was therefore decided not to throw the baby out with the bathwater. There is a real threat to our cyber defense; we're likely to be harmed, so we're investing in defense first."