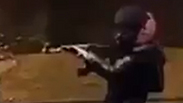 Second video of alleged Istanbul shooter surfaces
After a terrorist opens fire inside Istanbul nightclub on New Year's Eve and kills at least 39, another video is of him is allegedly found; body of slain Israeli to land in Israel Monday; at present, no organization has claimed responsibility for the attack.
The terrorist who killed at least 39 and wounded 69 in Istanbul during New Year's Eve on Saturday has yet to be caught, with Turkish authorities in pursuit of the assailant. In the meantime, another video and photos of the supposed terrorist have surfaced. The video shows him breaking into the Reina nightclub where he opened fire, while the pictures appear to be of him at Istanbul Atatürk Airport.

Four Israeli women who were at the club on the night of the attack were caught in the midst of the shooting attack. One of them was 18-year-old Leann Nasser, who succumbed to her wounds and was pronounced dead shortly after noon on Sunday. Nasser's body was initially not identified, as it was separated from her purse and phone. However, she was eventually found to be at an Istanbul hospital. As she was uninsured, Israel's Interior Ministry funded the return of her body, which is expected to arrive in the country on Monday.




Turkish Prime Minister Binali Yıldırım issued a statement following the attack. In it, he denied initial reports that the terrorist had dressed up as Santa Claus to dissuade any suspicion as to his presence on New Year's, though reoprts from those injured stated that he did. Among them was Israeli Ruaa Mansour, who was flown back to Israel on Sunday.

Presently, no organization has claimed responsibility for the attack.

Turkish Minister of the Interior Süleyman Soylu stated that out of the 20 victims who have already been identified, 15 are foreigners. He added that the assailant arrived at the club concealing his weapon, but left wearing a different outfit.