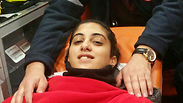 Ruwa Mansour returns home
'I never thought we'd return home without Layan'
Ruwa Mansour, Dr. Alaa Abed Alahi and Aya Ahsan Abed Alahi, whose friend Layan Nasser was murdered at the Istanbul New Year's terror attack, recount the horrifying moments and lament their friend; Ruwa, who was moderately wounded, was helping others at the club even after being shot.
Ruwa Mansour, who was wounded in the New Year's terror attack in Istanbul, returned to Israel late Sunday night and was transferred to the Meir Hospital in Kfar Saba, where dozens of her family members were waiting for her.

Mansour, 18.5, and her three friends—Dr. Alaa Abed Alahi, 30, Layan Nasser, 18, and Aya Ahsan Abed Alahi, 26—were at a restaurant near the Reina night club when the terrorist arrived and started shooting indiscriminately, killing Layan Nasser.

"We were at a restaurant and someone started shooting without stopping. It's hard for me to talk about Layan," Mansour said in tears.



The four friends decided to take a spontaneous trip to Turkey to celebrate New Year's Eve. They were sitting at a restaurant close to the club, and Mansour said that seconds before the shooting started, she and the other girls were discussing leaving the restaurant and going someplace else.

At around 1:30am, they started hearing gunfire. "We were told to get down to the floor, and the shooting just didn't stop," Mansour recounted.

"When the shooting started, we thought it was a fight. But all of a sudden we heard 'Allahu Akbar' and we realized it was a terror attack," Dr. Alaa Abed Alahi said.

"She and her friends were very far (from the attacker), they were just on the other side," Ruwa Mansour's father, Sufiya, said. "Someone came in through the back door and started shooting—first into the air. When the guards approached him, he started shooting at civilians."

"When my daughter heard the gunfire, she dropped to the ground and crawled toward the door to get out. She was apparently hit by two bullets—one to her hand and one to her leg," Sufiyan added.

"After the shooting started and I was wounded, I took my friend Aya to a storeroom and we hid there," Ruwa told Ynet.

"My three friends and I split up and tried to get away and find a place to hide," Alahi said. "There were a lot of people on the floor, some were dead. And the shooting didn't stop for a long time. There was a lot of shouting, and police took a long time to come."

Mansour, a volunteer at Magen David Adom, kept aiding others around her, providing them with medical treatment, despite being wounded herself.

"I provided medical assistance to a Kuwaiti woman who lost consciousness. I felt duty-bound to help others," she said.

It was only hours later that the girls learned of the tragedy that befell them—their friend Layan Nasser was killed.

"Thirty-nine people were murdered and we were saved by a miracle. Layan was my best friend and sadly she died," Alahi said.

"I can't comprehend it still. I lost my best friend," she added. Dr. Alahi worked with Layan at a dentist's clinic.

Shira Ben-Zion, the Israeli deputy consul general in Istanbul, said Layan's coffin will be flown to Israel on Monday evening.

Her family has gone from worry to relief and then to grief on Sunday when, after hours of not hearing anything from her, they were told she was found at a hospital in Istanbul. But shortly thereafter they learned it was a different woman and received the horrible news.

"I know the security situation in Turkey is not good," said Layan's father, Zaher. "I asked her not to go but sadly she did."

"It was very difficult to return to Israel without Layan, our soul. I never thought this could happen to us and we'll lose our best friend," Ruwa Mansour said. "I was looking for my friends (after the shooting). I wanted to give them medical treatment when I started thinking they may have been wounded."

The four girls did not have travel insurance, so the State of Israel had to intervene to fly Layan's body home. Interior Minister Aryeh Deri instructed his ministry to pay for flying Layan home after being asked to by the mayor of Tira, where they girls are from.

Because the attack at the Istanbul club did not target Israeli citizens specifically, the Defense Ministry is expected not to recognize Layan Nasser and her friends as terror victims.

Dalia Elyakim, who was murdered at the attack at the Christmas market in Berlin two weeks ago, was also not recognized as a terror victim.

Eitan Glickman and Danny Adino Ababa contributed to this story.