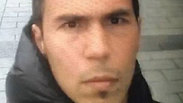 The suspect from Turkey shooting
Turkish media have run a "selfie video" of a man they say is the gunman who killed 39 people at an Istanbul nightclub.

The video broadcast on Turkish television Tuesday shows the alleged gunman filming himself at Taksim square. It wasn't immediately clear if it was filmed before or after the New Year's massacre at the Reina nightclub.

The Islamic State group claimed the attack. The gunman, who is still at large, hasn't been identified.

Several media reports said the man was believed to be from a Central Asian nation. Haber Turk newspaper said the man is thought to be a member of China's Muslim Uighur minority. It said he arrived in the Turkish city of Konya with his wife and two children. His family was detained, it said.

Turkish media are quoting security experts as saying that the suspect is a highly professional assassin.

The English-language Daily News quoted anti-terror expert Abdullah Agar as saying the way the attacker operated shows that "he is absolutely a killer and he probably shot at humans before."

Agar is quoted as saying that "the attacker is determined, faithful, practical, coldblooded expert and knows how to get results ... he probably fired bullets in real clash zones."

The nightclub assailant, armed with a long-barreled weapon, killed a policeman and a civilian early Sunday outside the Reina club before entering and firing at some of the estimated 600 people inside.