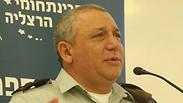 IDF chief Eisenkot
Photo: Motti Kimchi
Eisenkot: 18-year-old man who joins IDF is a soldier, not 'everyone's son'
Day before court is set to determine if Sgt. Elot Azaria is guilty of manslaughter, IDF chief stresses he has no influence on the court's decision; the courts 'seek to serve justice and set the norms and judicial rules and they are not affected by me,' the IDF chief says.
A day before the military court is set to decide whether Sgt. Elor Azaria is guilty of manslaughter, IDF Chief of Staff Gadi Eisenkot on Tuesday passed implied criticism against voices who call for leniency in his sentencing.

"An 18-year-old man who enlists in the IDF is a soldier, and not 'everyone's son,' and he must give his life to protect us," Eisenkot said.

Speaking at an event in memory of former IDF chief Amnon Lipkin-Shahak, Eisenkot also expressed his full confidence in the court and stressed that he has no say in the judgement.

"There are courts and I have no influence on them," he said. "They seek to serve justice and set the norms and judicial rules and they are not affected by me."

He said that in Israel, "there's great confusion over what is the role of each body."

The Azaria family criticized Eisenkot's comments, saying in a statement: "On the eve of Elor's sentencing, the IDF chief finds it appropriate again to bluntly interfere. He is coming out against the notion that we are sending the ones most dear to us to the army under the belief that they are being entrusted to commanders who are worthy of it."

Defense Minister Avigdor Lieberman called on judges Col. Maya Heller and Col. Orly Markman on Monday to ignore background noises as they pass their judgement. Heller is the head of the panel that will sentence Azaria on Wednesday. Lieberman has previously stated he would support Sgt. Azaria even if he is convicted.

Azaria is facing manslaughter charges after shooting dead a seriously wounded terrorist lying on the ground.

Meanwhile, Azaria's supporters continued their campaign on Tuesday morning by releasing a photo of Azaria from his first day in the IDF alongside a letter of support written by Azaria's sister.

"Two years before the army, you started training—come rain or shine, early in the morning and late at night—so you could pass the tests for a combat position. The night before you couldn't sleep, but you made yourself because you had to give your all to what you wanted most in the world—to fight for the State of Israel," Azaria's sister Etti wrote.

"And then came that cursed day, March 24, 2016, the day you did your duty and saved a life and shot a terrorist who started moving with a bloated black coat on a hot day.

"Since, the world came down on us, everything changed by the disappointment and pain that you were abandoned.

"You've been under arrest for 10 months, 10 months that your wings have been clipped and your freedom taken, 10 months in which you've been witnessing injustice."

She called on the people of Israel to "pray to the Maker to give us back everyone's child."

If Azaria is convicted on Wednesday of manslaughter, which carries with it a punishment of several years in prison, the Military Advocate General's Office is considering asking the court to send Azaria to military prison immediately rather than wait a month for the verdict.

Immediately after the incident, Azaria was put in military prison. During the court hearings ahead of his indictment, he was moved to open detention at his army base near Rosh HaAyin—the military alternative to house arrest. He was granted leave to go home for some weekends and holidays.

If Azaria is convicted, the court is expected to take into account the fact Azaria spent some 10 months in open detention, during which he served as a maintenance worker at the base.