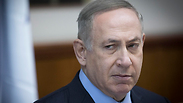 Prime Minister Benjamin Netanyahu will be questioned by the Israel Police again this week, apparently on Friday morning as part of their investigation into his having allegedly accepted illicit gifts from businessmen while a public servant.

The prime minister was already questioned on Monday for three hours under caution at his official residence. Then, he responded to the questions posed to him regarding his version of events. A knowledgeable source said, "He's not a regular person to be questioned. And he was very prepared for the investigation."

Following the questioning, both parties directly involved maintained complete silence. The first meeting took place on Tuesday amongst Investigations Department Deputy Commissioner Meni Yitzhaki; Lahav 443 Special Investigations Unit head, Deputy Commissioner Roni Rittman; and the investigating team in which they all reviewed the evidence gathered.

In the next round of questioning, the investigators are likely to bring up further suspicions that they have gathered against Netanyahu. This is also the reason that the details of the crimes of which the prime minister is suspected have not yet been published in full.

Monday night, a statement by Attorney General Avichai Mandelblit detailed a list of claims that arose and did not present sufficient grounds to launch an investigation.

Netanyahu released his first comment on Tuesday after the preceding day's questioning in which he communicated, "I repeat: There won't be anything because there isn't anything."