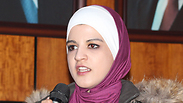 Will Hebrew be taught in more Arab universities?
Will Hebrew be taught in the Arab world?
An unusual conference held in Amman brought professors from four countries to discuss a particular topic—teaching Hebrew to students at universities from Saudi Arabia to Egypt; speakers say Israelis know more about Arabs than the Arabs know about Israel and Jews.
Egyptian, Jordanian, Saudis, and Iraqi students gathered for a workshop in Amman last week to discuss what to many may seem like a surprising issue; the future of the Hebrew language in the Arab World.

The organizers of the workshop was the Center for Israel Studies in Amman. Founded just two years ago, the center is headed by Dr. Abdullah Swalha, who obtained his doctorate at Cairo University where he studied Jews and Israeli democracy.

The workshop was funded in part by the DC- and Tel Aviv-based Israel Institute, which also took part in the event.

A closing document states that there will be a push to develop Hebrew language studies in the Arab world, understand the content of Hebrew language classes taught at Arab universities, research to what degree understanding Hebrew would help in understanding the State of Israel and Israelis in general, and brainstorming about the challenges, opportunities, and potential risks of learning Hebrew.

There was also a note made about the history of Hebrew studies in these various Arab countries.

It said that various Hebrew studies courses began at Egyptian universities in the 1960s and that there are 13 universities with over 2,500 students who learn about Hebrew in Egypt every year. A similar program began in Iraq in 1969, in Saudi Arabia in 1994, and in Jordan in 2000 at the Yarmouk University.

"If knowledge of (Israeli) society is necessary in times of war, it is even more necessary in times of peace," said an Egyptian professor who was at the workshop.

There were also those who were against studying Hebrew due to political considerations.

However, one Jordanian speaker responded to this, "Studying Hebrew should be done despite emotions, especially when it comes to the sciences." An Iraqi professor added that "learning Hebrew is now a very urgent matter for our people."

The Jordanian speaker continued, "We have no idea about Hebrew culture, the language, and way of thinking. They know and understand us a lot better than we know and understand them."

Meanwhile, a Saudi professor praised the Hebrew language, "While Hebrew is a dynamic, changing language, we have been using the same references since 1962."
A dearth of students who want to study Hebrew
"We have a problem in terms of the number of students who want to study Hebrew," Swalha said.

"In Jordan for instance, the number of people studying Hebrew has dropped from 500 to about 100. Additionally, students who study Hebrew are unable to find jobs. We must analyze this problem and come up with a solution," Swalha continued.

The workshop also touched upon the difficulties of learning Hebrew. On top of the logistical issues – such as a lack of Hebrew learning material in Arab university libraries – there is also a lack of direct contact between Arab lecturers and their Israeli counterparts, thereby making it difficult to get Hebrew language books, newspapers, and other materials. The materials need to be obtained via a third party, as contact with Israelis is illegal in many Arab countries.

"Hostility due to the Arab-Israeli conflict has kept Arab students and professors from connecting with their Israeli counterparts," a Jordanian speaker said.

Another barrier for Hebrew language studies in the Arab World is the social aspect – how a student's friends and family may view them for studying Hebrew, and may take it as an act of "normalization." Those at the workshop agreed that Hebrew has a very negative connotation in their cultures.

It is also due to this negative connotation that people are afraid that they will be seen as pushing Israeli and Jewish media and points of view in the Arab world. However, there are some governments who have discussed helping to fund Hebrew language professors and students to connect with their Israeli peers.

However, several proposals were made at the workshop despite the difficulties. There was talk of establishing an international Arab society of Hebrew scholars, translation projects translating Hebrew material into Arabic with the support of various international institutions, and helping to provide more resources and jobs for graduates who graduate with a degree in Hebrew. There was even talk of providing scholarships to outstanding students to study in Israel, Germany, the US, and other Western countries.

However, despite all of the good intentions, the elephant in the room remains – are Arabs in the Arab world studying Hebrew to start a dialogue between the two nations, to "know thy neighbor?" Or, are they only learning Hebrew in an effort to collect intelligence, to "know thine enemy?"

The answer was given very eloquently at the workshop: "(Hebrew) is very important to understand the 'other,' as it is only through language that we can understand the culture of the society and its way of thinking. The language can bring our nations closer."