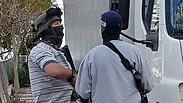 A day after a series of shooting events took place in the city of Haifa, there is a growing suspicion among security forces that they were both connected and carried out due to nationalistic motives. A manhunt continued on Wednesday through the Halisa neighborhood—where the police's main suspect is from—as its residents call on the suspect to turn himself in.

The investigation into Tuesday's Haifa shooting incidents had a surprise development, moving from a suspicion that the shooting spree was focused on harming rabbinical judges, to suspicion of nationalistic motives.



Earlier Wednesday, the police scanned an abandoned house in Halisa for three hours in search of the suspect. Approached by Ynet, the suspect's mother refused to give a response, beyond stating "I have nothing to say."

With a large number of police personnel still in the neighborhood, residents of Halisa expressed their concern that their houses will be searched during Wednesday night, as they were on Tuesday. "We don't want another Nashat Melhem," said a resident of the neighborhood, referring to the manhunt carried out after Melhem—an Arab from the northern Arab town Ar'ara—went on a deadly shooting attack in Tel Aviv in January of last year. "It's extremely scary to see armed policemen enter homes with their faces covered. It's like in times of war. It would be better for the suspect to turn himself in, otherwise he will be putting an entire neighborhood at risk."

Rafat Asdi, another resident of the neighborhood, voiced his surprise upon hearing the suspect's identity. "This is a completely normative family, an exemplary family without a single criminal entanglement. The suspect everyone is talking about is an honors student, and the entire neighborhood is really surprised. We'll be wiser after the investigation develops further." He added that "If the suspect is involved, I call on him in the name of the whole neighborhood to turn himself in."