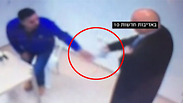 Screenshot of footage
Courtesy of Channel 10
Wednesday morning, the state appealed the release from house arrest of MK Basel Ghattas (Joint List), who was indicted for smuggling cell phones to Palestinian security prisoners in Israel jails on Thursday. Footage allegedly showing Ghattas committing this crime was broadcast on Channel 10 on Thursday evening.

The appeal, filed with the Lod District Court, stated that Ghattas "is somebody who does not obey the law and has no ear of the law, who is not afraid to commit serious crimes inside a security facility, and hence a fortiori, there is a suspicion that he will endanger public safety outside the walls of a security facility, as well."

Footage of Ghattas (חדשות 10)

The court will consider the appeal on Sunday afternoon. Approved by the attorney general and state attorney, the appeal seeks to have the MK returned to house arrest for 30 days.

The security footage that Channel 10 broadcast on Thursday shows a visiting room where Ghattas can be seen visiting Basel Bizra, a security prisoner in Israeli detention. The MK is seen walking to the door, which he locks. He then double checks it before withdrawing a package from his long coat. He passes it to Bizra, who stuffs it into his underpants.

A total of four envelopes were transferred. They allegedly contained telephones and SIM cards that were supposed to reach the terrorist Walid Daka—who is serving a life sentence since 1984 for his involvement in the murder of IDF soldier Moshe Tamam.

The offenses Ghattas will be charged with are: Bringing in documents not through the prison administration, bringing in communication devices, use of property for purposes of terrorism, fraud and breach of trust by a public worker, fraudulently obtaining benefits under aggravated circumstances.

Ghattas claimed he did not know what the envelopes he gave prisoners contained.

On Monday, the Knesset's Ethics Committee barred Ghattas of parliamentary activity for the next six months. The MK will not be able to speak at committees or at the plenum and will not be allowed to submit bill proposals, but will still be able to vote and get paid.

The committee dubbed Ghattas's actions a "severe ethical breach," while Ghattas dubbed the decision "vindictive."