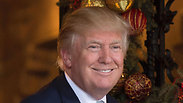 US President-elect Donald Trump
Photo: AFP
Palestinians to Trump: moving embassy to Jerusalem equals declaration of war
A close aide to Palestinian Authority President Mahmoud Abbas calls Trump's stated intention to move the US Embassy to the Israeli capital 'a declaration of war on Muslims', as another official threatens to call on Arab, Muslim countries to remove embassies from Washington.
The Palestinian Authority has stepped up its combative rhetoric against US President-elect Donald Trump's stated mission to transfer the US Embassy from Tel Aviv to Jerusalem, which was repeated by one of his top aides.

The sentiment was expressed by Palestinian Authority Mahmoud Abbas's close advisor Mahmoud al-Habash, who on Friday called it "a declaration of war on Muslims." The description was significant not only for its content, but also for the fact that it echoed a similar sentiment voiced by former Jerusalem Mufi Achrama Sabri, whose extreme views are normally not shared by the PA.

"Everything can collapse if the embassy will be moved to Jerusalem," said al-Habash. "It can open a wide door to possibilities that no one wants." He added that they will not be able to sit idly by if such a move occurs.

Another official in the Palestinian Fatah party stated that if the embassy will be moved to Jerusalem, the PA will demand that that Arab and Muslim countries remove their embassies from Washington. The officials stressed that is not merely a Palestinian issue, but an Arab and Muslim one as well.

Abbas himself also commented on the possible scenario of the US Embassy moving to the Israeli capital. Abbas took a less militant tone, voicing his hope that Trump will not seek to implement his past statements, as it would cause irrevocable damage to the peace process.

"We heard a lot of statements relating to moving the US embassy, which we hope are not correct and will not be implemented, but if implemented then the peace process in the Middle East, and even peace in the world, will be in a crisis we will not be able to come out from," stated Abbas.

The Palestinian campaign against transferring the US embassy to Jerusalem comes less than two weeks before Trump's inauguration and days before the international peace conference that is set to be held next week in Paris. The conference will focus on trying to find a solution to the Israeli-Palestinian conflict.