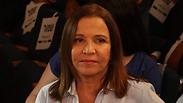 Shelly Yachimovich thinks the PM should suspend himself.
Photo: Motti Kimchi
PM reportedly contacted Kerry to sort out friend's visa
Channel 10 reports that Benjamin Netanyahu called the US secretary of state thrice in 2014 to ask him to intervene in a problem with the visa of Arnon Milchan, the same businessman who allegedly gave the prime minister illicit gifts worth hundreds of thousands of shekels; opposition MK draws parallel to convicted PM Ehud Olmert.
Channel 10 reported on Saturday evening that Prime Minister Benjamin Netanyahu spoke thrice with US Secretary of State John Kerry in 2014 to ask him to sort out a problem with the visa of Israeli businessman Arnon Milchan. Netanyahu is under investigation for, inter alia, accepting illicit gifts from the Hollywood mogul. According to Channel 10, the visa issue was indeed handled.

The prime minister is under investigation for two separate issues. The central line of inquiry has not yet been made public, but the secondary one features Milchan prominently. Channel 2 journalist Amnon Abramovitch reported on Thursday that Netanyahu has received hundreds of thousands of shekels worth of cigars and pink champagne from the businessman.

Abramovitch stated that Milchan had been providing the cigars to Netanyahu for 7 to 8 years, though those close to the prime minister claim that the gifts were not intended as bribes. Netanyahu was questioned twice last week by the Israel Police.

Netanyahu's lawyer, Yaakov Weinroth, speaking to the press from his home's yard in Ramat Gan on Friday, said that there is "no scrap of crime" in someone giving his friend cigars as a gift.

Opposition MK Shelly Yachimovich (Zionist Union) commented on the investigation at a cultural event in Tel Aviv on Saturday that the prime minister will soon have to suspend himself from his duties. "This is abhorrent corruption," she said. Referring to Netanyahu's predecessor in the premiership, the parliamentarian continued, "Netanyahu had a 'sugar daddy' who regularly provided him with valuable perks, just like the Talansky envelopes in the Olmert affair." Ehud Olmert was sentenced to eight months in prison last year for accepting cash bribes in envelopes from businessman Moshe Talansky.

Yachimovich added on her Facebook page that the ruling in Olmert's case stated that in determining if a bribe had taken place, "the court wanted to clearly now whether money or something worth money exchanged hands. It did. Olmert's in prison."

Netanyahu's right-wing political party Likud responded, "We suggest to our friends on the left not to sink into fantasies and delusions and look for more creative ways to replace the right-wing government. Since this time as well, nothing came of it because there is nothing, we suggest that our friends in the opposition seek the redemption of the Left elsewhere."

Ynet has not yet managed to reach Milchan for comment.