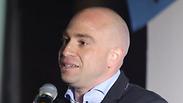 'There's a way to say things, and it is gently and with love.'
Photo: Motti Kimchi
Several thousand Israelis came on Saturday night to Tel Aviv's Rabin Square in a rally against incitement to violence and in a call for solidarity following the sharp divisions that have resounded in the country since the conviction of Sgt. Elor Azaria for manslaughter in the killing of the incapacitated Palestinian terrorist, Abed al Fatah a-Sharif, in March.

The rally was initiated by community leader Capt. (res.) Ziv Shilon, who was critically wounded in a 2012 terror attack on the Gaza border fence. Since Azaria's conviction, there has been incitement to violence against IDF Chief of Staff Gadi Eisenkot and the judges who sat on the panel of the military court, amongst others.

Ziv Shilon sings with demonstrators (צילום: מוטי קמחי )

In addition to Shilon, the families of the three Israeli teenagers who were

kidnapped and murdered in the West Bank in 2014

—Eyal YIfrach, Gil-Ad Shaer and Naftali Fraenkel—were in attendance.

The rally was interrupted when Ran Karmi Buzaglo, the director of a group committed to the "struggle" for Azaria, forced his way onstage and refused to leave until he was forcibly taken away by police. He yelled inaudibly at the crowd, as the organizers quickly turned up the music to drown him out.




Additional pro-Azaria protestors came to yell at the demonstrators, even though the rally was ostensibly against incitement to violence and not aimed at commenting on the case. One of those protesting the rally told Ynet, "The family doesn't have any spokesman. The family strongly condemns any violence, physical or verbal."

Clashes at the rally (צילום: יוגב אטיאס)

At the rally, the amputee Shilon said, "I am a whole person because of the unity of the nation. You can think and say everything; each one of us supports something else. There's a way to say things, and it is gently and with love, not with cursing and swearing."




Asked about those who had come to protest the solidarity rally, he replied, "Why must we always address the bad? Look at how many people came. I'm sorry that it happened, and it would have been better had it now. It's important that there be unity. People came from far away. I'm leaving with a good feeling about unity, solidarity and a nation that is flourishing."

Bat Galim Shaer, the mother of Gil-Ad Shaer, one of the three teenagers murdered in 2014, said, "We're here to strengthen unity and the values of tolerance. We won't permit ourselves to fall into disagreements that tear us apart. Difference is a blessed thing, and we need to learn how to disagree. I think that today it's Elor's trial, and tomorrow it'll be something else. When the enemy wants to cause damage, they don't care about our opinions, and we must be united as the chosen people and be an example of human morality."

Danny, a man who lives in center of the country and who came to the rally, came up to Shilon and told him, "During the time of Begin and Rabin, I didn't come to demonstrations. This is the first time that I've been here. If we don't come to our senses, we'll end up in oblivion. And I say this as a man of the right-wing."

Itai Levi, one of the representatives of the country's youth organizations who came to the rally, said, "Violence and incitement don't have a place here…We don't have to agree; we only have to care." His colleague Pnina Nahum added, "Let's fight against baseless hatred. I'm afraid of conceding the country. We need to fight so that our country won't burn. Whoever hurts the IDF harms democracy."

Ilan Galdor, the executive director of the Gesher Foundation that helped to organize the rally, said in the square, "Our message is that there is one army and one nation, and we have to do everything to keep it a legitimate quarrel (that only takes place) at home. Incitement is dangerous, and we have to maintain a respectful dialogue. Every word of contempt and incitement endangers society."