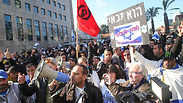 Pro-Azaria protestors
Photo: Yariv Katz
Man arrested for inciting to violence against Eisenkot
Police detain a 33-year-old Jerusalemite for statements he allegedly made outside the courthouse against the IDF chief of staff on the day when Sgt. Elor Azaria was convicted of manslaughter; the attorney general had instructed the police to investigate the calls to incitement that have been rife in response to the conviction.
Israel Police arrested on Saturday night a 33-year-old man from Jerusalem who is suspected of having incited to violence against IDF Chief of Staff Gadi Eisenkot at a demonstration in support of Sgt. Elor Azaria on Wednesday.

The suspect allegedly was present at the demonstration outside the military courthouse when Azaria was convicted of manslaughter in the killing of the incapacitated Palestinian terrorist, Abed al Fatah a-Sharif, in March.

Attorney General Avichai Mandelblit had instructed the police this week to investigate calls to violence against Eisenkot. Protestors had been heard chanting, "Gadi, Gadi beware, Rabin's looking for a friend," referring to the prime minister who was assassinated in 1994. One protestor was recorded yelling into a microphone, "This night, you're going to die!"

The incitement to violence drew public letters of support from dozens of reservist battalion commanders, Eisenkot's predecessor, Lt. Gen. (res.) Benny Gantz, and the Association for Former Members of Sayeret Matkal. On Saturday night, several thousand Israelis participated in a rally against incitement.

The suspect's lawyer Itamar Ben Gvir said, "The suspect was summoned on Sunday for questioning and intended to arrive, but following the rally and the media's unfair criticism, the young man was arrested in a showcase of police action." He insisted that there was no reason to arrest his client.

He added, "The guy is disabled. His condition isn't good. He came to the rally in support of the soldier Elor Azaria and protested the fact that Elor, the child of us all, was abandoned. The things that were said were said during emotional turmoil, and the suspect regrets them and expressed remorse in his questioning.

"However, when Israeli Arabs wished death on IDF soldiers or expressed joy at the death of soldiers, nobody arrested them. The young man came to the rally for the army, for the nation, for a combat soldier who was abandoned on the battlefield. There's no rationale for his arrest…I'm sorry that the police are acting out of political motivations."