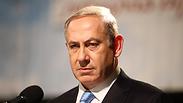 Prime Minister Netanyahu
Photo: Motti Kimchi
Report: Police has recording of Netanyahu discussing mutual benefits with Yedioth owner
According to a report in Haaretz, the suspicions in the central line of inquiry against the prime minister are backed by recording; Netanyahu tells ministers: 'now that I know what this is about, I can say with confidence—nothing's going to come of it, because there is nothing to it.'
Prime Minister Benjamin Netanyahu was reportedly recorded negotiating on the phone with Yedioth Ahronoth owner Arnon Mozes on mutual benefits, according to reports on local media on Sunday morning.

The recording, which was obtained by the police, establishes the suspicions against the prime minister, Haaretz reports. The investigaton is referred to as "the 2000 Case.'

The paper quotes a close associate who spoke to Netanyahu after he was questioned for the second time on Thursday and said the prime minister was surprised by the evidence against him.

While Haaretz didn't name the businessman Netanyahu spoke with, Channel 2 identified him as Yedioth Ahronoth owner and publisher Arnon "Noni" Mozes, who also owns Ynet and Ynetnews.

According to the report, Mozes had a long conversation with Netanyahu regarding a deal that would aid Yedioth Ahronoth in the print market in return for a more favorable coverage of the prime minister in the paper.

Journalist Guy Peleg reported on Sunday afternoon that "The recording was recorded by Ari Harow, who was the prime minister's chief of staff. The recording was recorded at theequest of Benjamin Netanyahu and with his knowledge. This recording was caught by investigators during Ari Harow's other investigations, in which they caught his cellular phone, as well as documents and personal computers of his. And one more thing: a law enforcement individual we spoke to over the last hour tells us of the content of the conversation: it is a disqusting conversation, a conversation of give and take, in which on the one hand Yedioth Ahronoh publisher Noni Mozes promises positive coverage and on the other hand the prime minister says 'I will take care of you regarding the Israel Hayom Bill'."

Mozes was also reportedly questioned under caution regarding the suspicions.

Netanyahu told Likud ministers on Sunday morning that "now that I know what this is about, I can say with confidence—nothing's going to come of it, because there is nothing to it."

He dismissed the investigation as the result of "inappropriate and incessant pressure by elements in the media on law enforcement authorities" and advised his "friends in the opposition not to celebrate, because there's nothing to celebrate."

Netanyahu was questioned twice last week by the Israel Police on two separate issues. The central line of inquiry has not yet been made public, but the secondary one features Hollywood businessman Arnon Milchan prominently.

Channel 10 reported on Saturday evening that Netanyahu spoke to US Secretary of State John Kerry three times in 2014 to ask him to sort out a problem with Milchan's work visa. According to Channel 10, the visa issue was indeed handled.

Netanyahu is under investigation for, inter alia, accepting illicit gifts from the Hollywood mogul. Channel 2 journalist Amnon Abramovitch reported on Thursday that Netanyahu has received hundreds of thousands of shekels worth of cigars and pink champagne from the businessman.

Abramovitch stated that Milchan had been providing the cigars to Netanyahu for 7 to 8 years, though those close to the prime minister claim that the gifts were not intended as bribes.

On Friday, Netanyahu's lawyer, Yaakov Weinroth, spoke to the press, insisting there is no substance to allegations the prime minister improperly accepted gifts.

Weinroth added that there is "no scrap of crime" in someone giving his friend cigars as a gift. He explained that he was unable to directly address the content of the questioning, as it constitutes part of an ongoing police investigation.

Opposition MK Shelly Yachimovich (Zionist Union) commented on the investigation at a cultural event in Tel Aviv on Saturday that the prime minister will soon have to suspend himself from his duties. "This is abhorrent corruption," she said.

Referring to Netanyahu's predecessor in the premiership, the parliamentarian continued, "Netanyahu had a 'sugar daddy' who regularly provided him with valuable perks, just like the Talansky envelopes in the Olmert affair." Ehud Olmert was sentenced to eight months in prison last year for accepting cash bribes in envelopes from businessman Moshe Talansky.

Yachimovich added on her Facebook page that the ruling in Olmert's case stated that in determining if a bribe had taken place, "the court wanted to clearly know whether money or something worth money exchanged hands. It did. Olmert's in prison."