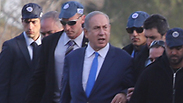 PM at the site
Photo: Gil Yohanan
PM & Def. Min: Truck-ramming attack related to ISIS
Avigdor Lieberman says that the attack took place for the simple reason that 'we are Jews, and we live here in the State of Israel'; Netanyahu says that the terrorist was a supporter of ISIS; both draw parallels to attack in Jerusalem with similar ones in Nice and Berlin; IDF rejects claims that Azaria verdict made soldiers hesitate to shoot.
Visiting the site of the truck-ramming attack in Jerusalem's East Talpiot on Sunday a few hours after the incident that killed four and wounded 17, Prime Minister Benjamin Netanyahu announced that the attacker was connected to ISIS.

Netanyahu came to the scene with Defense Minister Avigdor Lieberman and was briefed by the Israel Police's Jerusalem District Commander Yoram Halevy, Netanyahu announced, "We know the identity of the terrorist, and according to all the signs, he was a supporter of ISIS." The terrorist has been identified as Fadi Ahmad Al-Qunbar, a 28-year-old

Netanyahu said that Israel has blockaded Jabel Mukaber, the east Jerusalem neighborhood where Al-Qunbar lived, and is planning other measures to prevent similar attacks.

He added, "We know that there's a chain of attacks here, and there could definitely be a connection between them, from the ramming attack in Nice, France, to the ramming attack in Berlin, and now Jerusalem. We are fighting against this affliction, and we will overcome it."


Netanyahu and Lieberman expressed their condolences to the families of the casualties and wishes for recovery to those wounded. Lieberman attributed a motive to the attack: "It is clear that this horrible terrorist attack is not for any other reason rather than just one reason: Because we are Jews, and we live here in the State of Israel.

Moment of the attack

"There was no other reason for this, and you don't need to look for any justification—not Jewish settlements and not negotiations, but simply a terrorist attack, inspired by ISIS. We saw this in France, we saw it now in Berlin, and unfortunately, we saw it today in Jerusalem. We will fight this terrorism with all the tools at our disposal, and I am certain that there will be results and that we will triumph."

President Reuven Rivlin spoke before taking off for a state visit to Georgia, saying, "My heart remains in Israel, and it is a heavy heart indeed." He sent his condolences and best wishes as well and promised to visit the families on his return.

The IDF rejected claims that soldiers hesitated to fire at the terrorist in fear that they would be put on trial, thus following in the footsteps of Sgt. Elor Azaria, who was convicted last week of manslaughter after shooting a neutralized terrorist.

Minister of Public Security Gilad Erdan responded to the attack attack, ordering Israel Police not to return the terrorist's body. "This is a particularly heinous, painful and serious crime that could lead to copycats. We will not allow the vile terrorist and his family to have a funeral that would grant him the respect that would encourage other attackers," said Erdan.

The Associated Press contributed to this report.