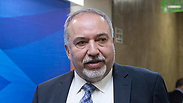 Avigdor Lieberman
Photo: AP
Lieberman: Azaria verdict had no influence on response to J'lem attack
Defense Minister Avigdor Lieberman says that there is no correlation between the soldiers' shooting at the terrorist from Sunday's deadly vehicular attack in Jerusalem and the verdict on Sgt. Elor Azaria's killing of a neutralized terrorist; Yesh Atid Leader Yair Lapid insists 'We have to reinstate sanity in Israeli discourse.'
Defense Minister Avigdor Lieberman (Yisrael Beytenu) spoke at a party faction meeting on Monday, saying that there is no comparison between Sgt. Elor Azaria's shooting of a seriously wounded terrorist who no longer posed a threat and the reactions of the soldiers who were present at Sunday's vehicular attack at East Talpiot, Jerusalem, during which four soldiers were killed.

"I was sad to see all sorts of responses to IDF forces, to the soldiers who were present," said Lieberman. "What you have to understand is that this kind of event takes seconds, during which you need to figure out that it isn't an accident but a terrorist attack, before having to load your weapon."

Lieberman went on to say, "We haven't finished with the investigation yet. But it's clear that our soldiers immediately realized (what was happening—ed), mobilized and shot the terrorist, so it wasn't as some have claimed."

The Yisrael Beytenu leader stressed that "Any attempt to tie this event to the Elor Azaria verdict is simply untrue. For anyone who does not know the facts: since the Elor Azaria case we have taken out 39 terrorists and wounded 15." He added that Sunday's real-time response by the soldiers "was a determined action of the IDF."

Moreover, he referenced the fact that the Palestinian Authority has yet to come out against the incident. "The other obvious point here is the Palestinian Authority's refusal to condemn this attack. We've been following the Palestinian Authority's official responses from Ramallah, but there's been silence. We have, however, seen a great deal of joy and support for the terrorist on social media."

Yesh Atid Leader Yair Lapid also rekected accusations that Azaria's case and his guilty verdict subconsciously impacted the reaction of the soldiers present at Sunday's attack, making them hesitate in opening fire, for fear that they too would be prosecuted.

"Yesterday Shira Tzur, Yael Yekutiel, Shir Hajaj and Erez Orbach were murdered, may they rest in peace. While the injured fought for their lives and security forces were still at the scene, there were already those who quickly tried to drag this terrible attack into the (ongoing—ed) political debate. They spread vicious lies, claiming that all the soldiers ran away from the scene because of what happened in Elor Azaria's trial. 'The Azaria Effect' they called it. They ignored the fact that soldiers fired in real time and took out the terrorist. Instead of embracing them, they once again attacked the IDF chief of staff, a man who has been leading warriors into battle for 40 years. We have to reinstate sanity in Israeli discourse," said Lapid.