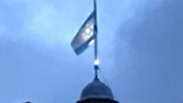 The Israeli flag atop Rotterdam's city hall
While Berlin lit up the Brandenburg Gate with Israel's flag on Monday evening, the city of Rotterdam in the Netherlands flew the same flag atop its city hall building, also in solidarity following the Jerusalem truck-ramming terror attack that claimed the lives of four IDF officers.

The decision to fly the blue-and-white Israeli flag was made by Rotterdam's mayor, Ahmed Aboutaleb, a Moroccan-born Muslim. The city is also home to a large population of Muslims, many of them immigrants.

Israel's ambassador to the Netherland, Aviv Shir-On, intends to call the mayor and thank him for the gesture.