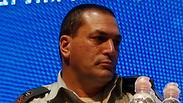 Maj. Gen. Eyal Zamir
Photo: Ido Erez
IDF brass discuss Azaria in Haifa leadership conference
In the first public comments of senior IDF officials following the Azaria verdict, top IDF officials reiterate need to follow rules of engagement; 'if you want to be part of the army defending Israel, you need to be part of the value system that comes with it.'
Commander of the Southern Command, Maj. Gen. Eyal Zamir, commented Tuesday on the verdict against Sgt. Elor Azaria reached last week, saying "Azaria committed a criminal offense, but this is a threshold. The IDF cannot compromise its values, or it will lose its morality."
Zamir delivered his remarks at the Haifa Leadership Conference, saying, "As commanders, sh** happens. Leaders see these incidents as opportunities. You must not run from responsibility. I expect commanders not to be afraid to explain to their soldiers what they must do."
Referring specifically to the case of Elor Azaria, Zamir said, "Since the Azaria affair, 39 terrorists have been killed in the West Bank and even in the Southern Command, Palestinians have been killed on the border fence. Soldiers were backed up and investigations were not opened because the soldiers acted according to the rules of engagement."
In addition to Zamir, other high ranking IDF officials were present at the forum, including the commander of the Paratroopers Brigade, Col. Nimrod Aloni and former commander of the Central Command, Maj. Gen. Avi Mizrahi.
Addressing the Azaria affair, Aloni said, "I spoke with hundreds of soldiers about the incident. Not only just about what is legal and what is not, but what is moral and what we want as a Jewish army. There were fierce debates and soldiers expressed their opinions even if they were different than ours as commanders. Not everyone has to agree, but if you want to be part of the army defending Israel, you need to be part of the value system that comes with it."
Gal Hirsch, director of the conference, remarked in his opening statements, "It is a big responsibility to be a commander and your words have weight and consequences. Public figures forget it takes years to build and only seconds to destroy."