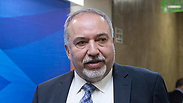 Avigdor Lieberman
Photo: AP
Lieberman: We are protecting IDF values and Elor Azaria
Defense minister urges people to 'sit and stay silent' about the verdict against Sgt. Elor Azaria, warning that it merely causes further damage to his cause; reminds people Azaria was an 'excellent soldier' and that the terrorist 'came to murder Jews.'
Defense Minister Avigdor Lieberman took to his Facebook page on Tuesday afternoon urging the restoration of calm in the aftermath of the conviction of gt. Elor Azaria, who was convicted last week of manslaughter of a seriously wounded terrorist.

"We are doing everything in order to guard the IDF's values and Azaria the soldier. Everything else is simply causing damage," the Yisrael Beytenu leader said.

Lieberman also assured his Facebook followers that all efforts were being made to guard the values of the IDF while simultaneously protecting Elor Azaria.

The comments came approximately four hours after Commander of the Southern Command, Maj. Gen. Eyal Zamir, commented on the verdict during the Haifa Leadership Conference, saying that Azaria committed a criminal offense and warned that "the IDF cannot compromise its values, or it will lose its morality."

Perhaps in an implicit response to the general's comments, Lieberman sought to remind the public that Azria had distinguished himself as a good soldier in the IDF prior to the incident and that the terrorist he killed had targeted Jews.

"In light of the many request to my ministry about Azaria I say once again to make everything absolutely clear: Anyone who wants the good for Elor Azaria must sit quietly and stop the noise and the commotion. We all remember that we are talking, on the one hand about an excellent soldier, and on the other hand a terrorist who came to murder Jews," he wrote.

Meanwhile, Azaria's Defense Attorneys Ilan Katz and Eyal Besserglick submitted a request Tuesday afternoon to the military court to delay by a week the sentencing that was supposed to be handed down on Sunday.

The chief prosecutor in the trial is not expected to oppose the request which stems from the attorneys' desire to prepare character witnesses who have agreed to testify for Azaria in order to attain a lighter sentence for the soldier.

The witnesses include Azaria's friend from his military unit, junior commanders and his school teachers.