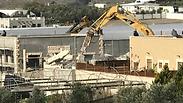 Nine homes that were constructed illegally in the Arab village of Qalansawe in central Israel were demolished on Tuesday, sparking outrage from locals and political officials.

The demolition of the homes in a main neighborhood in the village, some of which were inhabited while some were still in various stages of construction, was accompanied by hundreds of policeman, as angry residents staged a protest.

Qalansawe Mayor Abed Salameh announced that he would resign from his position as a result of the demolition and expressed fury over its implementation.

The police distanced the residents from the areas marked for destruction while moving vehicles blocking the routes leading to the homes.

However, hundreds of residents assembled at the site in an angry demonstration, screaming chants such as "Enough with the demolitions. Stop the racist policy."

As a result of the demolition, the Arab Monitoring Committee, led by former MK Mohammad Barakeh, declared a general strike that is set to commence on Wednesday across the Arab sector, including in schools.

The strike was announced at the conclusion of an emergency meeting of the monitoring committee in the Qalansuwa Municipality in which the majority of Arab MKs participated, along with other senior officials in the Arab sector.

"Where are all the Arab MKs and the leaders?" one of the protesters asked in an interview with Ynet. "They are insulting what is going on. It would be better if they resigned. All the time we only hear speeches and their esoteric language without results."

Hasun Mahluf, an owner of one of the homes that was demolished, said that the destruction exemplified "the racist policies of the State, that calls itself a democratic country. This move only causes bad relations. Where will these families go? It pains the government to see the Arabs progress," he vented.

The Arabs living in the area had invested large sums of money to build the homes, continued Mahluf, "and unfortunately, within seconds, they are destroying them."

He called on the local authorities and government officials to legalize the construction in the Arab towns rather than "leaving us here in the (cold). We also have children, and now they have no roof over their heads."

Another individual attempted to highlight the difference between this case and that of Amona. "Qalansawe is not Amona and they are destroying homes and leaving families without a roof despite the fact that the homes were built on private land," he said.