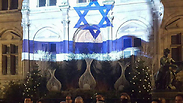 An Israeli flag was projected on the front of the Paris City Hall on Tuesday in a symbolic act of solidarity with the wounded and killed victims of Sunday's vehicular attack in Jerusalem.

The act follows the examples set by Germany, in which the colors of the Israeli flag illuminated the Brandenburg Gate Berlin on Monday, and by the Netherlands, which on Tuesday flew an Israeli flag atop Rotterdam City Hall.

Paris Mayor Anne Hidalgo tweeted a video of the projected flag waving, writing, "#Paris pays tribute to the victims of the attack in #Jerusalem." Some of her followers were displeased with the solidarity, with one writing, "Shame on Paris" and another adding, "I feel like vomiting."

The flag projection is to remain in place from 7:30pm to 11pm local time.

The Representative Council of Jewish Institutions in France tweeted, "This evening, we're in front of Paris City Hall, lit up in memory of the victims of the Jerusalem attack #AllUnitedAgainstTerrorism."

The Israeli Ambassador to France, Aliza Bin-Noun commented on the occurrence, saying, "We are happy that the Paris Municipality has shown an act of solidarity with Israel in relation to the abhorrent act of terror that took place in Jerusalem. We are part of the fight of the global war on terror."