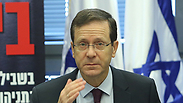 Opposition leader Isaac Herzog
Photo: Gil Yohanan
Herzog demands Netanyahu be stripped of Communications portfolio
In an appeal to the attorney general, the opposition leader says recent reports prove the prime minister has 'a clear interest and direct affiliation to the Israel Hayom newspaper, which is distributed for free and has the largest circulation in Israel.'
Opposition leader and Zionist Union Chairman Isaac Herzog is demanding that Attorney General Avichai Mandelblit remove Prime Minister Benjamin Netanyahu from his position as communications minister.

"The recent reports on his matter prove that he has a clear interest and direct affiliation to the Israel Hayom newspaper, which is distributed for free and has the largest circulation in Israel," Herzog wrote in an appeal to the attorney general submitted by his lawyer, Shimon Brown.

Herzog's demand was based on reports that Netanyahu had allegedly spoken to Yedioth Ahronoth publisher Arnon Mozes on issues related to Israel Hayom. He added that if the attorney general failed to meet his demands, the Zionist Union would petition the High Court of Justice within 48 hours.

Earlier Monday, Herzog addressed the issue at a faction meeting in the Knesset, saying: "We have all discovered that Communications Minister Netanyahu wants to be the investigative reporter, the journalist, the editor and the presenter and to print all newspapers. The reports about the conversations between the prime minister and the Yedioth Ahronoth publisher verify the claims that the Israel Hayom news desk was operated and is operated by Netanyahu. This connection must be thoroughly exposed."

The opposition leader further added that the state attorney must "uncover the full affiliation between Netanyahu and Israel Hayom and prove that operating the newspaper constitutes a forbidden donation of millions to the Likud faction and to Netanyahu."

Arnon Mozes is the publisher and owner of Yedioth Ahronoth Group, which includes Ynet.