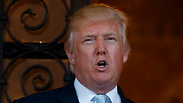 President-elect Donald Trump is criticizing US intelligence agencies over the leak of an unsubstantiated report that Russia had compromising personal and financial information on him.

Trump tweeted Wednesday that "Intelligence agencies should never have allowed this fake news to 'leak' into the public. One last shot at me. Are we living in Nazi Germany?"

The tweet was part of an early morning Trump firestorm denouncing the reports, in which he said he has "nothing" to do with Russia. Various news outlets reported late Tuesday that US intelligence officials briefed Trump last week on the unverified information Russia was said to have on him.

Trump insisted that the media reports were "very unfair" and payback for defeating other Republican presidential hopefuls and Democrat Hillary Clinton.

"I win an election easily, a great "movement" is verified, and crooked opponents try to belittle our victory with FAKE NEWS. A sorry state!"

The leaked report's most graphic allegation details how, during a trip to Moscow, Trump supposedly witnessed prostitutes perform a "golden showers (urination) show" for him in the presidential suite of the Ritz-Carlton hotel. The alleged reason for the show was that the act was performed on a bed where President Barack Obama and his wife Michelle had slept during one of their trips to Russia.

The briefing about the document was first reported by CNN. A summary of the allegations was separate from a classified assessment of Russia's attempts to meddle in the US presidential election. Trump and President Barack Obama were briefed on the intelligence community's findings last week.