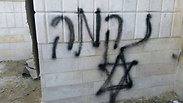 The Shin Bet and the Judea and Samaria Police Division of Nationalistic Crimes have been conducting an investigation involving suspicion of a planned attack on Arabs.

A gag order was placed on the precise details of the investigation while the Petah Tikva Magistrate's Court Ruled Wednesday that besides the fact that an investigation was underway, all additional details are to remain classified.

The Shin Bet and the police are treating the matter seriously and have described the investigation as being complicated.

In recent years the Shin Bet and Judea and Samaria District Police have sought to crack down on right-wing extremists who have either planned or succeeded in carrying out terror attacks against Palestinians. In the past two years, a number of open hate cases have been cracked by security forces, some of which have remained open for years. Security forces are also recording a drop in "price tag" attacks.

Among other things, indictments and other measures were taken against the perpetrators of attacks against Palestinians such as the acts of arson in Beitillu and Duma, in which members of the Dawabsheh family perished. Despite controversy, administrative detention was also employed against two of the Jewish suspects.