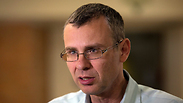 Minister Yariv Levin
Photo: Ohad Zwigenberg
Report: Yariv Levin gave testimony in Netanyahu-Mozes case
Haaretz reports that Likud MK Yariv Levin was summoned by the police to see whether Prime Minister Benjamin Netanyahu approached him regarding a promise he allegedly gave Yedioth Ahronoth owner Arnon "Noni" Mozes about approving a bill that would force Yisrael Hayom to charge its readers for the paper.
Haaretz's news website reported on Wednesday that Minister of Tourism Yariv Levin (Likud) was called in by the National Fraud Investigations Unit to give testimony last Sunday, regarding the Netanyahu-Mozes affair. Levin confirmed to Haaretz his being summoned but refused to discuss the content of his testimony.

According to the publication, Levin, who served in 2014 as chairperson of the Knesset House Committee, was considered together with current Likud Minister of Jerusalem Affairs and Minister of Environmental Protection Ze'ev Elkin Netanyahu's as confidant in matters pertaining to passing bills into law. It is assumed that Levin was summoned by the police to check whether Netanyahu approached him regarding what Netanyahu had allegedly promised Yedioth Ahronoth and Ynet owner Arnon "Noni" Mozes: namely, that Netanyahu would act to secure the passing of a law that would have forced the free newspaper Yisrael Hayom to charge readers for its purchase. This would have weakened Yisrael Hayom's power and strengthened Yedioth Ahronoth, which Mozes owns. The assumption is that the police wanted to check with Levin whether Netanyahu nevertheless approached him about passing such a law.

Channel 2 and Haaretz reported that the proposed deal between the publisher and prime minister included a drastic change in the way that Yedioth Ahronoth's news outlets covered stories related to Netanyahu, who would act to promote legislation that would have severely damaged the competing free newspaper, Yisrael Hayom.

Lawyers Navit Negev and Iris Niv-Sabag, who represent Mozes in this matter, stated that "We are prohibited from responding details of the investigation, and therefore we will not respond to the various publications, both past and future. We suggest waiting until the end of the investigation, when the picture will become clearer. It should be understood that this response should not been interpreted as confirmation of what has already been published."

Arnon Mozes is the publisher and owner of Yedioth Ahronoth Group, which includes Ynet.