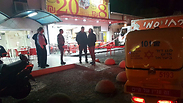 Scene of attack
Photo: Itay Mazor
15 people, including four children aged 2-4 were injured Wednesday night by a tear gas grenade thrown into a dining area in Kiryat Ata, in the Haifa Bay.

MDA paramedics provided first aid to victims before they were evacuated to Rambam Hospital in Haifa after suffering from burns to the eyes and difficulty breathing.

The incident occurred at 6:15pm when the business was full of customers. An initial investigation revealed that two men riding a motor scooter, who fled the scene.

"There was serious commotion at the scene," said MDA paramedic Raz Diamond. "It's a miracle this incident didn't end with even more injuries."

Police are currently searching for the two suspects, who have not yet been apprehended. "The police view this incident very seriously due to the fact that we're dealing with an explosive and a crowd of people, including children."