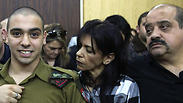 L to R: Elor, Etti and Charlie Azaria
Photo: AP
Brigade commander reportedly recorded offering Azaria's father deal
Kfir Brigade Commander Guy Hazut is recorded pushing convicted Sgt. Elor Azaria's father Charlie to cut a deal with the defense; 'The line of defense, at least from what I've read, hasn't been very successful,' Hazut is heard telling to the senior Azaria.
A recording of Kfir Brigade Commander Guy Hazut was made public on Wednesday, in which he is heard pushing Charlie Azaria, the father of Sgt. Elor Azaria to cut a deal with the defense, in an effort to lighten Elor's sentence, due to be announced in a month's time. The conversation was recorded on Monday, and was revealed by Channel 2 News journalist Amit Segal.

On Tuesday, the IDF Spokesperson's Unit denied that Hazut had offered Azaria a deal in exchange for him waving his right to appeal the manslaughter verdict for killing of neutralized terrorist Abed al Fatah al-Sharif, but the aforementioned recording presents the opposite case, with Hazut going as far as telling the senior Azaria that he is acting as a representative of the IDF.

"I can offer you the following," Hazut is heard saying the Charlie. "I can get you a meeting with the chief military prosecutor and have him lay out the ways in which you can move forward with the IDF prosecution, be it counseling or adding someone to the defense team. I don't have a legal education. All I know is what I've read over the last weekend, and this line of defense, at least from what I've read, hasn't been very successful so far."

After Hazut offers him to meet "as soon as tonight" with the IDF Manpower directorate, the assistant to the IDF chief of staff and the GOC Central Command, in addition to the chief military prosecutor, Charlie responded to Hazut's offer by telling him, "I won't have my 21-year-old son convicted of manslaughter when he's done nothing but serve his country. If God forbid they would've told me, 'Listen, a Palestinian walked down the street and he shot him,' I would've said 'Are you crazy?' As far as I'm concerned, if there's no manslaughter count, then I've got no problem with it. I don't want to cause the army any damage, on the contrary—I want to come out and tell soldiers that they should enlist, that we don't have any other country."

"When I hear soldiers calling me and saying, 'Listen, Charlie, I don't know when to shoot and when I shouldn't. If I don't shoot they'll tell me I didn't act in an operational manner, and if I do shoot, I'll be standing in your son's shoes,' what can I tell them? I don't want that damage. When I saw the event (Sunday's vehicular terrorist attack—ed), I felt ashamed. To this day my heart aches. It's burned with the knowledge that we're burying four soldiers now."

The IDF Spokesperson's Unit issued a statement following the release of the recording. "The IDF Spokesperson wishes to clarify that he will not detail the content of the meeting that took place between the family of Sg.t Elor Azaria and his commander, but he denies the false report of Channel 2 News, which insinuated that a deal was offered in regard to a lighter punishment or to the appeal or any other interference in the legal proceeding."

The IDF Spokesperson continued to say that "Sgt. Elor Azaria is entitled to a clean legal proceeding that is free of added pressures and that is treated by his commanders in a continuous and smooth manner as it would be for any other IDF soldier." He added that "The point of the meeting was to see whether the family needed additional assistance."

Following the recording being made public, Azaria's legal representatives petitioned Defense Minister Avigdor Lieberman with claims that the Hazut's conduct was "outrageous, infuriating and wrong," and that it "crosses any rule or supposed law." Their appeal comes after Lieberman's own statements over the past week, in which he said that "Anyone seeking Azaria's best interests should sit quietly now and stop all the commotion. We're doing everything possible to protect IDF values and Azaria. Anything beyond that will only cause damage."