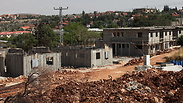 Residents from the Ofra settlement arrived at the Knesset Wednesday to protest the High Court ruling to demolish nine homes built illegally on privately-owned Palestinian land.

In a letter distributed throughout the halls of the Knesset, residents said, "We demand a change in the status of the land once and for all. The impotence and inaction of the government and the prime minister will not cause us to lower our heads and humbly accept the destruction of homes in Ofra."

An Ofra official added, "Those who ignore Ofra and come riding on a bulldozer will be in for a determined struggle."

The community is confident that the prime minister can prevent the damage and regulate the legal status of Ofra. Residents met with Knesset members Yair Lapid (Yesh Atid), Yoav Kish (Likud), Rachel Azaria (Kulanu), Amir Ohana (Likud) and Moti Yogev (ayit Yehudi) to demand that they prevent the planned demolitions.

Currently, the chances of regulating the statuses of the homes in question in order to prevent demolition are weak. While residents understand this, they are claiming that it is time to promote the Regulation Bill, which will resolve the status of Ofra.

Several days ago, officials from the Ministry of Defense met with the owners of the nine houses slated for demolition and tried to persuade them to leave voluntarily and even offered assistance in doing so. Residents rejected their proposal.