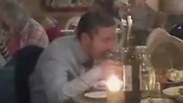 Shai Masot, the Israeli diplomat who was covertly filmed by Al Jazeera saying that he wanted to "take down" various British parliamentarians, resigned, the Israeli Ministry of Foreign Affairs announced Thursday.

On Sunday, Al Jazeera released footage gathered by one of their reporters who was posing as a pro-Israel advocate that shows Masot speaking to Maria Strizzolo, a civil servant who was formerly an aide to Conservative Minister Robert Halfon. In the video, the former embassy employee asks, "Can I give you some MPs that I would suggest you would take down?" he asks, without elaborating what that entailed. He also calls British Foreign Secretary Boris Johnson "an idiot" in the recording.

The Israeli Embassy in the UK was quick to issue an apology, with Israeli Ambassador Mark Regev personally apologizing to Deputy Foreign Minister Alan Duncan, who was one of the parliamentarians "targeted" by the employee.

The Al Jazeera footage

Masot's business card says he is a "Senior Political Officer" at the embassy who, according to his LinkedIn page, has worked there since November 2014. He describes his role at the embassy as being the chief point of contact between the embassy and MPs and liaising with ministers and officials at the Foreign Office. He was also a major in the IDF between 2004 and 2011.