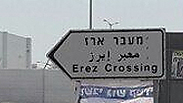 Erez Crossing
Photo: Yoav Zitun
In a conversation with the heads of Gaza border communities, Defense Minister Avigdor Lieberman referred to the recent quiet in the area, saying, "If the quiet on the border with the Gaza Strip continues, we will allow for a significant increase in humanitarian aid."

Moreover, Ynet has learned that for the first time, a decision was made to establish a conveyor system for transferring fuel and basic construction materials from the Erez border crossing to the northern Gaza Strip.

Construction on the transfer system is set to begin in roughly a year.

This decision marks a significant gesture by Israel as currently, the only crossing for equipment into the Gaza Strip occurs at the Kerem Shalom Crossing.

In addition to the decision to increase humanitarian shipments and open another border crossing to the transfer of materials, the Ministry of Defense has also decided to allow an increase of workers. The decision was made following demands from the heads of several border communities for more agricultural workers.

Furthermore, restrictions on vehicles being imported into the Gaza Strip have been loosened, with several hundred vehicles passing through the Erez Crossing in the last three months.

The easing of restrictions has been made possible as a result of the relative quiet on the border and was approved by the Minister of Defense. All this despite the knowledge that materials transferred to the Gaza Strip remain in the hands of Hamas, who uses the materials to strengthen their position. However, Israel is well aware of the difficult humanitarian situation in the Gaza Strip and has taken action to reduce the difficulty as much as possible.

Nevertheless, Israeli officials acknowledge that these measures can be halted at any moment should an escalation occur.

At present, roughly 1,000 trucks a day transfer supplies to the Gaza Strip through the Kerem Shalom Border Crossing. Before Operation Protective Edge, roughly 300 trucks transferred supplies a day.