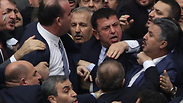 Fight breaks out in Turksh parliament
Photo: MCT
Turkey's ruling Justice and Development Party (AKP) and the main opposition party, the Republican People's Party (CHP) exchanged blows and threw punches during a discussion on constitutional reform aimed primarily at expanding the powers of President Erdogan.
The AKP has the support of the nationalist MHP party in pushing legislation that would bring Turkey a government that is not a fragile coalition of various parties.
However, the CHP and the pro-Kurdish HDP party fear the constitutional reform will only increase the country's authoritarian Muslim regime.
The fracas broke out during voting on articles of the constitutional reform. However, despite all the fuss and commotion, the ruling party managed to pass articles 3, 4 and 5 of the 18 proposed sections for the constitutional amendment bill designed to change Turkey's parliamentary system into a presidential system.
The bill will only proceed to a referendum if it can get the support of at least 330 lawmakers out of 550. The referendum is expected to take place in the spring.
Constitutional reform would allow Erdogan to appoint and dismiss ministers, to regain control of the AKP and to lead the country until 2029. According to the proposed plan, elections for president and parliament will be held in 2019 and the presidency will be limited to two consecutive terms of 5 years each. As such, it is possible that Erdogan will remain in power in Turkey until 2029, in the event that the system of government is successfully changed.