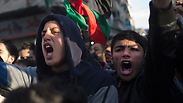 Protests against Hamas over electricity
Photo: AP
PA to assist Gaza with power crisis
Following widespread protests and public discontent with the Hamas government over power shortages, a temporary solution in which the PA exempts Hamas from taxes on fuel deliveries has been announced; additionally, Turkey has also offered to supply Gaza with 15,000 tons of diesel fuel, enough for Gaza's power plant to operate for three months.
The Palestinian Authority government in Ramallah is expected to grant the Hamas government in the Gaza Strip full exemption from paying taxes on diesel fuel purchased from Israel and supplied to Gaza.

The tax exemption will be for a period of three months and the PA will supply the Gaza Strip with enough fuel to allow the power plant to operate.

Despite the gesture, the crisis is not over yet and civilians in the Gaza Strip are still suffering from a lack of electricity. In the last month, the average home in Gaza receives only about three to four hours of electricity a day, as opposed to the usual eight hours.

Palestinian Minister of Labor Ma'moun Abu Shahla confirmed that the PA will make a decision at their next meeting on the 17th regarding tax exemption on fuel deliveries. The issue of tax exemptions was at the center of the current round of conflict between Hamas and the PA, which led to the current crisis.

Another step which was agreed upon was the improvement and advancement of an electrical line from Israel to the Gaza Strip, wherein Israel will transfer electricity to Gaza in exchange for collateral for monthly payments.

A special committee will also be established in order to help the power plant in Gaza switch to gas as opposed to diesel. The Hamas government in turn will see to establishing a payment mechanism for energy resources transferred into the Gaza Strip.

Meanwhile, the deputy leader of Hamas, Ismail Haniyeh—who has been in Qatar for several months— announced that a deal with the President of Turkey had been struck in which Turkey will supply some 15,000 tons of diesel to the Gaza Strip immediately. According to the Gaza Ministry of Energy, the fuel will be enough to operate the power plant for three months.