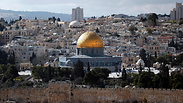 Major powers will send a message to US President-elect Donald Trump on Sunday that a two-state solution between Israelis and Palestinians is the only way forward, and warn that his plan to move the US Embassy to Jerusalem could derail peace efforts.
Some 70 countries, including key European and Arab states as well as the permanent members of the UN Security Council, are due in Paris for a meeting that Israeli Prime Minister Benjamin Netanyahu has rejected as "futile" and "rigged."
Neither the Israelis nor the Palestinians will be represented.
However, just under a week before Trump is sworn in, the conference provides a platform for countries to send a strong signal to the future American leader.
Trump has pledged to pursue more pro-Israeli policies and move the US Embassy from Tel Aviv, where it has been for 68 years, to Jerusalem, despite international objections.
"It would be a unilateral decision that could escalate tensions on the ground," a senior French diplomat said.
"Five days before he becomes president, it's not negligible that 70 countries recall (the need for) a two-state solution when his administration could implement controversial measures that may aggravate things."
France has said the meeting does not intend to impose anything on Israel or the Palestinians and that, ultimately, only direct negotiations between the two can resolve the conflict.
A draft communiqué seen by Reuters reaffirms existing international resolutions, urges both sides to restate their commitment to the two-state solution and disavow officials who reject it, and asks the protagonists to "refrain from unilateral steps that prejudge the outcome of final status negotiations".
Low Point
Diplomats said there could also be an allusion to Trump's plans.
Relations between the United States and Israel have soured during President Barack Obama's administration, reaching a low point late last month when Washington declined to veto a UN resolution demanding an end to Israeli settlements in occupied territory.
Obama's secretary of state, John Kerry, said the settlement program threatened Middle East peace, and that the two-state was in "serious jeopardy".
Palestinian President Authority Mahmoud Abbas said on Saturday that he had written to Trump warning that a move to Jerusalem would kill off the peace process and strip the United States of its role as honest broker - and could lead to the Palestinians going back on their recognition of Israel.
Home to Europe's largest Muslim and Jewish communities, France has tried to breathe new life into the peace process over the past year. It believes that, with the uncertainty surrounding how the next US administration will handle the issue, it is important to push the sides back to talks rather than allowing a fragile status quo to fester.
But with elections coming up this year in France and Germany, and Britain appearing to align itself more closely with the Trump administration on the issue, the prospects of the European Union, the largest economic partner for both Israel and the Palestinians, taking a lead on the matter appear unlikely.
Arab states have their own concerns about how Trump's relationship with them will turn out, and have taken a cautious line.
"All this is premature. We need to give the new US administration time to assess what they want to do," said a Middle Eastern diplomat based in Paris.