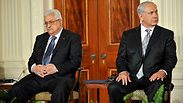 Abbas and Netanyahu
Photo: AFP
While Palestinian President Mahmoud Abbas has designated the Paris peace conference as the "last chance" for peace, officials in Jerusalem strongly condemned the conference, which began Sunday morning.

"This is a redundant, futile conference and this is not how to make peace. International conferences and UN resolutions only distance us from peace because they encourage the Palestinians to continue to refuse direct negotiations with Israel. The only way for peace is bilateral negotiations between the two sides, as was done with Egypt and with Jordan.

"If the countries that are meeting in Paris really want to promote peace, they need to push Mahmoud Abbas to accept the invitations of Prime Minister Benjamin Netanyahu for direct negotiations."

Referring to settlements and the international community, officials said, "Settlements are not an obstacle to negotiations, but rather an excuse for the Palestinian Authority to avoid negotiations. The international community has committed to the subject being discussed through direct negotiations on all core issues, and not separately.

"The PA continues to educate its citizens to hate and murder Israelis and the destruction of the State of Israel. The conflict has never been about a state for the Palestinian people, it has been about a state for the Jewish people which the Palestinians have refused to recognize in any borders."