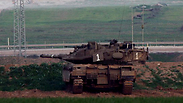 IDF forces carrying out maintenance work on the border fence between Israel and Gaza came under fire from Palestinians Sunday morning, promoting an IDF tank to destroy a Hamas military post in the southern area of the strip.

While no one was injured in the incident, damage was caused to an IDF vehicle.

The IDF spokesperson's Unit released a statement later on saying, "The attack was carried out in response to the fire (opened) against IDF forces that were working near the fence in the southern part of the strip earlier today."

Agricultural workers in the area were asked to distance themselves from the the the farms and fields.

Last month, a similar incident took place when armed Palestinians fired at IDF forces working on the fence near the northern area of the strip. No one was injured in the skirmish.

Shortly after, the IDF responded once again with tank fire, obliterating a Hamas position.