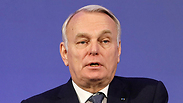 French Foreign Minister Jean-Marc Ayrault
Photo: AFP
French FM blasts Trump for embassy move plan
As 72 countries convene in Paris in an effort to reiterate their united support for a two-state solution as being the only viable premise for peace, and to pressure President-elect Trump to renege on his campaign pledge to move the US embassy to Jerusalem, French FM condemns it as a 'provocation' with 'serious repercussions.'
The French Foreign Minister Jean-Marc Ayrault delivered harsh criticism Sunday against US President-elect Donald Trump's pledge to move the American embassy from Tel Aviv to Jerusalem.

"The suggestion is a provocation with serious ramifications," Ayrault warned during the Paris Peace Summit which took place on Sunday and which was attended by representatives from 72 different countries.

Asked whether it was a provocation, Ayrault was unequivocal in his response. "Obviously. He can't do it. There will be the most serious ramifications. It isn't the first time that this has been on the agenda of an American president but none of them actually implemented the decision," he answered. "You can't make unilateral decisions. You have to create the conditions for peace."

Representatives from dozens of countries are using the summit, which was still underway by Sunday afternoon, to send a message to Trump that a two-state solution between Israelis and Palestinians is the only way forward.

They also wanted to warn that his plan to move the US Embassy to Jerusalem could derail peace efforts.

Outside of the hall where the conference was being held, hundreds of Israeli supporters demonstrated, carrying Israeli flags and waving placards which sought to draw attention to the rampant killings taking place around the world, particularly in the Middle East, in an effort to highlight the world's apparent ignoring of mass bloodshed.

"500,000 dead in Iraq, one conference in Paris?," one sign read. "The illusion of peace by sacrificing Israel," was the general theme of the protest.

While Palestinian Authority President Mahmoud Abbas has designated the Paris peace conference as the "last chance" for peace, officials in Jerusalem strongly condemned the conference.

"This is a redundant, futile conference and this is not how to make peace. International conferences and UN resolutions only distance us from peace because they encourage the Palestinians to continue to refuse direct negotiations with Israel. The only way for peace is bilateral negotiations between the two sides, as was done with Egypt and with Jordan.