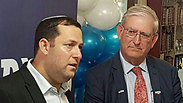 Dagan during the US campaign with the head of the Republican Party in Israel
Photo: Trump campaign in Israel
Israeli settlers will have representation at US President-elect Donald Trump's inauguration on Friday, with Samaria Regional Council Head Yossi Dagan, Efrat Mayor Oded Revivi and Ma'ale Adumim Mayor Benny Kashriel set to attend—and to bring gifts.

Initially, there was some indecision amongst the settler leadership if they should attend, but in the end, they all decided they would take part in an event that will be watched around the world.

"We decided to bring Trump a gift from the agricultural produce of Samaria," Dagan said. "While the Paris Conference is trying to do things without us, it's important to us to emphasize the importance that Judea and Samaria has for the State of Israel."

Dagan added, "We hope that the renewed selection in the US will bring with a new era of true friendship between Israel and the USA. We have no doubt that the prime minister of Israel will always be more Zionist than the president of the US; however, the US administration has today direct influence on the lives of the residents of Judea and Samaria, and we hope to see a change in this regard."

During his visit, Dagan will meet with senior officials in and connected to the incoming administration.

Recently, the Foreign Relations Unit of the Samaria Regional Council, founded by Dagan, hosted Becky Dunlop, a senior official in the president-elect's transition team, who again visited Samaria three weeks ago.

Other visitors hosted by the council include Alan Clemmons, a Republican state representative from South Carolina who later write the Republican Party's current platform and removed the two-state solution from it, and Bruce Blakeman, a New York Republican who is considered close to Trump.